Posted by Kristin Camplese on 03/05, 2012 at 03:13 PM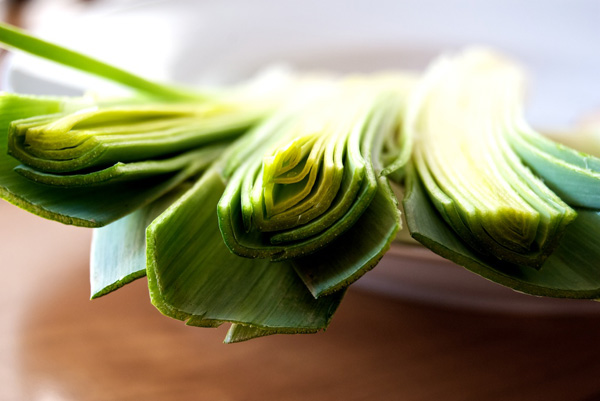 Good risotto is one of those things that is nearly impossible to get at a restaurant. Certainly, there are places that do it well. But if I order it, I am usually disappointed nine times out of ten. It just doesn't lend itself well to advance prep and requires lots of stirring while cooking. And you would think that would make it family unfriendly — but I find it to be the exact opposite. It is a quick and simple meal (wonderful for a vegetarian night, too) that can be done in under an hour. And the actual cooking part really only takes about 30 minutes.
The flavorings are tremendously variable. Any kind of stock will do, you can add seafood or chicken, and you can fool around with the type of wine you use. I do tons of variations — saffron risotto with shrimp (add saffron to your stock), lemon risotto with lobster and asparagus (add lemon zest and juice to your stock), chicken marsala risotto with mushrooms (add marsala to your stock), or in this case, a mushroom risotto with white wine and leeks. The base for any of the variations is arborio rice, stock, some shallot or onion, a bit of butter, and some parmesan cheese (if you like).
And risotto is also great for relaxed entertaining — everyone congregates in the kitchen anyway, so you can do your advance prep early and then stir away while you are having cocktails. You can easily double this recipe when making it for a larger group. Serve it up with a salad and wait for the accolades.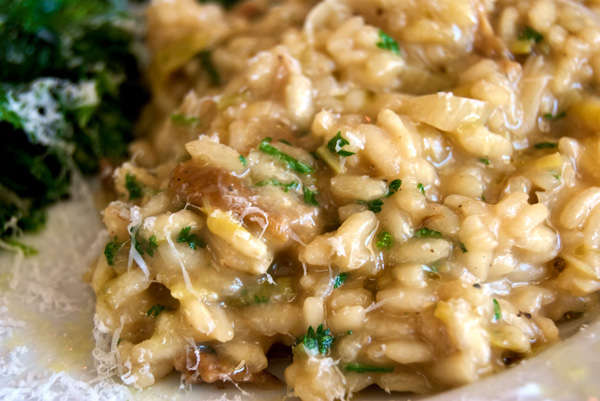 Ingredients
1/2 oz. dried porcini mushrooms (any type works though)
2 cups of hot water
2 leeks, white parts only, sliced lengthwise and rinsed to remove any sand, and chopped
2-3 shallots, peeled and chopped (or about 4 T of chopped onion and a bit of chopped garlic)
1 cup of white wine
2 cups of water or chicken/vegetable stock
1 1/2 cups of arborio rice (Italian short grain rice)
Olive Oil
Salt and Pepper
1-2 T butter
1/2 cup of freshly grated parmesan cheese
3 T Chopped Parsley or Chervil
Directions
Soak dried mushrooms in 2 cups of hot water for about 20 minutes until softened. Meanwhile, prep other ingredients (clean and chop leeks, shallots, grate parmesan, etc.).
When mushrooms are soft, remove mushrooms with a slotted spoon, chop them, and place in a bowl. Strain mushroom "stock" through a coffee filter into another bowl in order to remove any sediment. Using this soaking liquid makes the risotto extra "mushroomy," so if you prefer a lighter flavor (or have mushroom haters), use chicken or vegetable broth instead. You will be left with about 2 cups of mushroom stock.
Place 2 cups of mushroom stock (or other type of stock) in a medium saucepan with 1 cup of white wine and remaining 2 cups of water or chicken/vegetable stock. (5 cups total) Season with salt and pepper and bring to just a simmer over low heat — it is important to not make the stock too hot so it doesn't evaporate too quickly.
In another medium saucepan or a saute pan (preferably with higher sides), heat a couple of tablespoons of olive oil over medium heat. Add shallot (or onion) and saute for 2 minutes. Add leeks and cook 2 minutes more. Season with salt and pepper. Add arborio rice and saute for about 2-3 minutes in order to coat the rice thoroughly.
Add about one cup of the just barely simmering stock and stir. Reduce heat to medium low. Continue stirring until most of the stock has evaporated. Add an additional 1/2 cup of stock and stir until it evaporates. Keep adding about 1/2 cup of additional stock at a time and stirring until it evaporates. (You can leave the stove, however. Just make sure you stir it frequently — this activates the starches in the rice making it extra creamy.)
When you have used most of the stock (about 1 cup left out of the five cups), add the chopped mushrooms and the remaining stock. Continue to stir.
The rice is done when it is creamy, all the stock is mostly absorbed (should be a little "wet"), and the rice is tender (but not mushy). At this point, add 1/2 cup of parmesan, butter, 1/2 t of salt, pepper to taste, and chopped parsley or chervil. Taste and season more if necessary. I like to serve this version with a drizzle of good olive oil, extra fresh herbs, and freshly grated parmesan.
Author: Kristin Camplese
Bio: Author of Cuizoo.com | Writer | Photographer | Wife and Mother of 2