Posted by James Eisenstein on 06/19, 2014 at 01:39 PM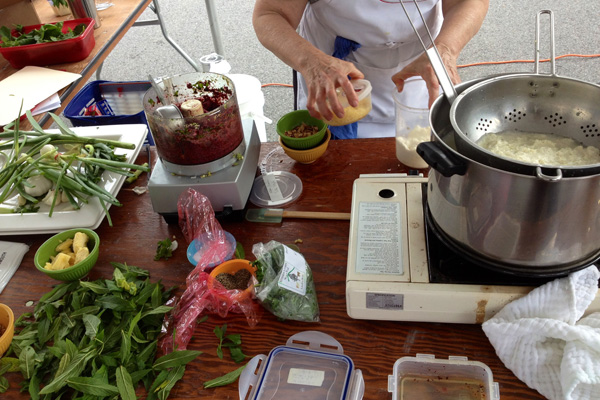 Three local chefs will demonstrate how to prepare dishes using fresh ingredients obtained at the Boalsburg Farmers Market on Tuesday, June 24. Mark Johnson, chef at Zola New World Bistro is sharing a pork rillettes recipe whose ingredients can be obtained at the market and that's easy to replicate. He's also demystifying pesto making using the wonderful seasonal herbs and produce available. Sc'Eric Horner (Fuji & Jade Garden restaurant) & Chris Young (Happy Valley Brewing) will demonstrate making "Cocktails from the Garden" using garden-fresh and local ingredients to create exciting summer drinks. The demonstrations begin at 2:00 p.m. at the market, which is located on the grounds of the Pennsylvania Military Museum on Bus. Route 322 (South Atherton Street) in Boalsburg.
This is the third year the Boalsburg Farmers Market has sponsored cooking demonstrations. Tony Sapia of Gemelli Bakers, the co-manager of the Boalsburg Farmers Market, said, "Events like this are integral to the Market's efforts to educate patrons about how to use the wonderful fresh, locally grown products available every week."
The market will sponsor a second cooking demonstration on July 15, the "Vegetable Festable" focusing on preparing vegetables and fruits. On Aug. 5, during local foods week, it will hold its fourth annual Golden Basket Award Chefs Competition. On Wednesday, September 10, it will hold its third annual Plow to Plate Harvest Dinner at the Mount Nittany Vineyard & Winery, featuring a full meal prepared by local chefs using fresh ingredients from the market. The market runs every Tuesday from 2:00 p.m. till 6:00 p.m., and there is ample on-site free parking.
Author: James Eisenstein
Bio: Unpaid Field Hand at Jade Family Farm | Former Penn State Professor