Posted by James Eisenstein on 06/24, 2013 at 02:59 PM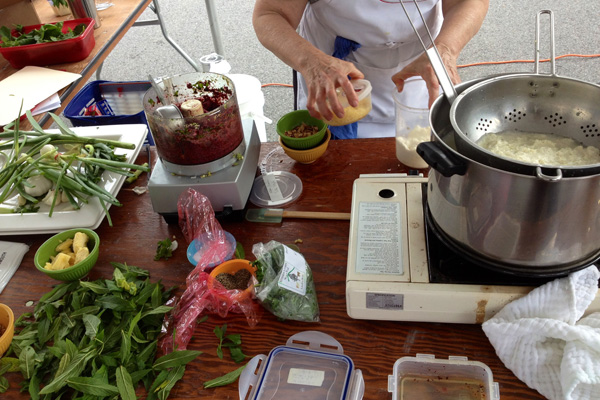 Three local chefs will demonstrate how to prepare dishes using fresh ingredients obtained at the Boalsburg Farmers Market Tuesday, June 25 at 2:00 p.m. Mark Johnson, head chef at the Elk Creek Cafe, will showcase dinner ideas for entertaining friends and family, while Sc'Eric Horner and Chris Young (master cocktailians from the Fuji & Jade Garden restaurant) will demonstrate making "Cocktails from the Garden" using garden-fresh and local ingredients to create exciting summer drinks.
Tony Sapia of Gemelli Bakers, who initiated the learning kitchens last year, said "These learning kitchens are part of the Boalsburg Farmers Market's efforts to educate the guests who patronize our market in new ways to use the wonderful fresh, locally grown products they see at the market."
The market will sponsor a second learning kitchen on July 16 and its third annual Golden Basket Award Chefs Competition on Aug. 6 during local foods week. Its Second Annual Plow to Plate Harvest Dinner will be held at the Mt. Nittany Winery on Wednesday, Sept. 11, featuring a full meal prepared by local chefs using fresh ingredients from the market.
The market is located at the Pennsylvania Military Museum on Business Route 322 (S. Atherton St.) in Boalsburg. The market runs every Tuesday from 2:00-6:00 p.m., and there is ample on-site free parking.

Author: James Eisenstein
Bio: Unpaid Field Hand at Jade Family Farm | Former Penn State Professor