Posted by Jamie Oberdick on 06/09, 2014 at 12:04 PM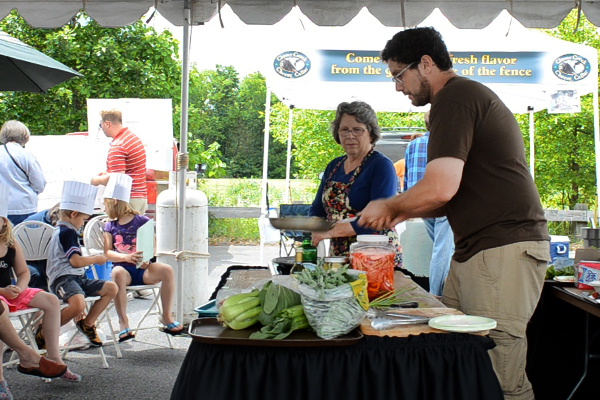 Students from Corl Street Elementary school have been invited to attend a cooking demonstration at the Boalsburg Farmers Market on Tuesday, June 10. The highlight of the event will be a "learning kitchen" cooking class conducted by Tony Sapia of Gemelli Bakers that will show children how to make simple dishes using ingredients obtained from the market. He will be assisted by noted local food writer and chef Anne Quinn Corr and her students from Penn State's nutrition program. After the demonstration, the vendors at the market will answer questions from the children about how they grow and make the products sold at the market, and Corl street students will be able to use a voucher worth $5 to purchase items themselves.
Another highlight of the event will be the presence of Bentley the Bison, owned by Anne Brooks. Anne owns the ABB Bison Farm and sells frozen bison meat. She brings Bentley to events all over the country, much to the delight of children.
Market co-manager Sapia explained that the intent of kids day is "to introduce kids to the variety of fresh products available at farmers markets, to introduce them to some of the ways they can be used, and to give them the experience of purchasing items themselves."
The event is part of a broader effort by the Boalsburg Farmers Market to make children aware of the importance of the healthy foods available from local growers. The market is a co-sponsor new school gardens at Grays Woods and Mt. Nittany elementary schools.
Students from Corl Street elementary school have been specially invited to the event, but all children are encouraged to attend. The cooking demonstration begins at 4:00 p.m. at the market, which is held at the Pennsylvania Military Museum on Business Route 322 (South Atherton) in Boalsburg. The market runs every Tuesday from 2:00 p.m. till 6:00 p.m., and there is ample on-site free parking.
Author: Jamie Oberdick
Bio: Editor, Local Food Journey | Passionate about supporting local food in Central PA