Posted by Jamie Oberdick on 06/10, 2013 at 01:07 PM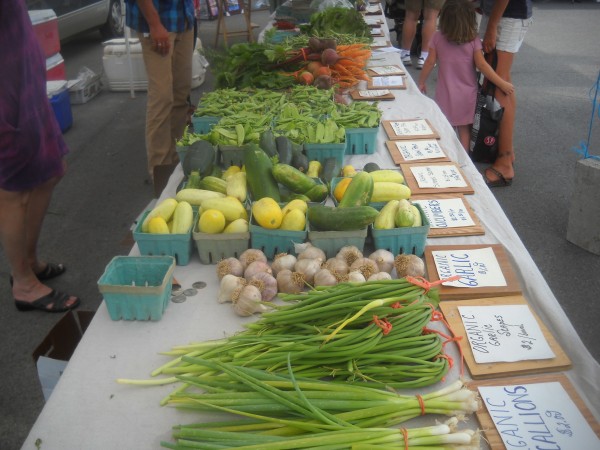 Kids Day at the Boalsburg Farmer's Market will occur Tuesday, June 11. The event will feature Tony Sapia of Gemelli Bakers demonstrating to children how to prepare simple dishes from products available at the market. This will happen at 3:00 p.m. at the Pennsylvania Military Museum. After the demonstration, farmers and other vendors will be available to talk to children in attendance about what they do.
Jim Eisenstein from Jade Family Farm, who blogs under the name Unpaid Field Hand here on Local Food Journey, said that Sapia is a natural to do the demonstration. "Local food is one of Tony's passions, and he has really taken the initiative to get kids introduced to good, local food," Eisenstein said.
Eisenstein said that Jade Family Farm also is working to promote local food to children. "One of Jade Family Farm's customers brought her kindergardeners and first graders to Jade's stand, where farmer John Eisenstein talked to the kids and answered questions," he said. "He also spoke to a third grade class at Grays Woods Elementary earlier this spring, and the market is one of the sponsors of Gray's Woods' new school garden. We are also trying to sponsor a 'local foods lunch' in several area elementary schools for this fall."
As far as how many kids go to farmer's markets, Eisenstein said that while he's never really counted how many kids are at the market on any given day, he notes that a lot of parents bring their kids to market. He hopes that events like Kid's Day will get more children interested in local food.
In addition, Kids Day will perhaps help parents find out what local tastes will please the notoriously choosy palates of their children. "We'll find out how much picky kids like local foods. They will find tastes like local ice cream, cookies, apples, and other such things as well as regular vegetables, like spinach."
For more information on the Boalsburg Farmer's Market please go to their website.
Author: Jamie Oberdick
Bio: Editor, Local Food Journey | Passionate about supporting local food in Central PA