Posted by Jamie Oberdick on 07/31, 2013 at 03:11 PM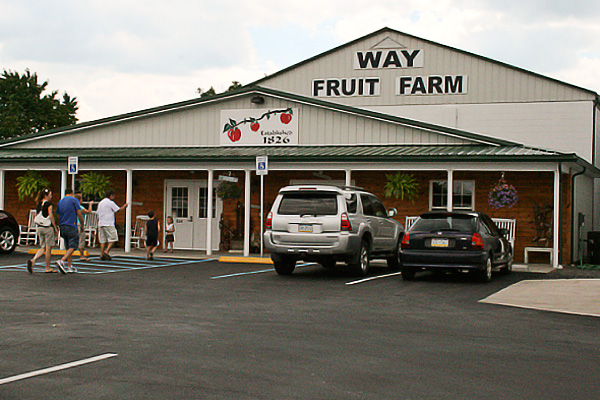 Way Fruit Farm apples and apple products are among the Centre Region's favorite local foods. As something of a cider snob connoisseur due to having grown up in the Appleland that is southcentral Pennsylvania, I am picky about cider but have found Way's cider to be one of my personal highlights of a Happy Valley autumn. However, Way Fruit Farm is so much more. They offer a wide variety of local fruit, and vegetables, almost year-round. They also have a pleasant cafe for breakfast and lunch, a gift shop, and provide a one-stop shop for other local food items such as meats, cheeses, sauces, etc. You can build a heck of a meal in one visit to Way Fruit Farm.
I recently had the pleasure to talk to Jason Coopey, co-owner of Way Fruit Farm, about what fruits are in season now and in the near future, why local food is so fantastic, and when they will again offer cider this year.
What sort of produce are you offering right now?
Right now we are just starting in with peaches and that's going to be the big crop for the next several weeks. Local peaches are just so wonderful because we pick them at the height of perfection. So, we have the peaches, we have the early apples, lots of plums, and then a ton of sweet corn. So it's definitely, when you look at everything we have, looking a lot like summertime.
What's the upcoming schedule for harvesting the different things you grow?
August is a big peach month. That's what August is truly known for, its peaches. I would say when it's really hot outside that's what the peaches love, and that typically happens in August. We have a lot of peaches, and then we will have a lot of apples coming in including those that are sweet for eating that a lot of people like. We also have a baking apple that we start to pick. Once you roll into September, that's definitely apple time. It's truly our busiest time.
Why do you think people should buy local?
There's a million good reasons to buy local. Right now there's a big movement towards local food. And one thing I think will stick even once the local food dies down a little bit, and really makes it for me, is how you get so much better quality. The product tastes so much better. You know, that's truly what fruit is about: A good product that tastes better.
And we're able to pick the stuff when it's able to be picked. For stuff that had to be shipped across the United States, it has to be picked way too early, it has to have something applied to it to make it last. Our stuff is much more natural, it's picked when it's supposed to be picked, and it just tastes better.
Second, by and large we are normally are a good deal cheaper than the grocery store. Our apples are about a quarter or a third of the price, our peaches are about half.
So, we're cheaper, we taste better, and then you get into all the environmental aspects and the food safety issues. I don't mean to belittle that aspect of it by mentioning it last. They are very important also. Do you really need a piece of fruit grown in like New Zealand? How much fuel was used to ship that?
Another thing is food safety. Normally when something comes from a small farm if there's any spraying done it's minimal compared to the stuff that's shipped. So it's a much safer product in that regard. And other food safety issues arise, like not knowing where stuff is grown, where the irrigation waters came from, that sort of thing. If you are getting things from a local source, you get to look at someone like me for answers (Iaughs). You get to ask "did you grow this right?" "Is it safe" "Are you also eating it?" And I get to answer "yes, yes, yes!" We're our number one consumer of our food so we're going to make sure it is safe.
Those are the big reasons why people should eat local and that's a lot of good reasons!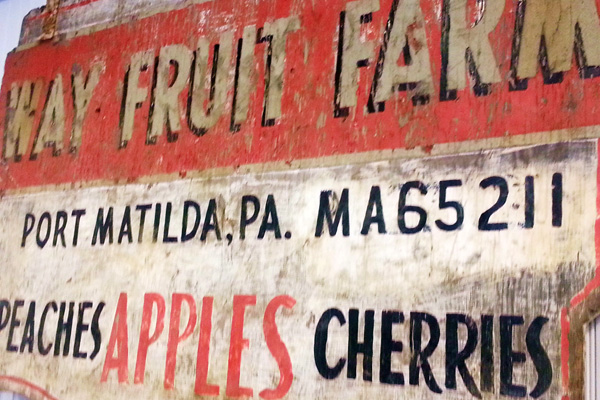 What is something about Way Fruit Farm that people might find surprising?
Part of what they might find surprising is how long we've been here. The farm has been in the Way family since 1826. It's been an orchard since the 1870s, and it's still just a small family business. I think that sometimes people come out here and think we have a large work crew and honestly we really don't have that many people who help us. It's still a family affair and we do a lot of the work.
I think people would be surprised to know how far back we go.
When will you have cider again this year?
We will have cider again around the second week of September. We just ran out a few weeks ago. Right now we're in peach season so we have to get to the point where we have a good number of apples. Truly what makes cider good is you got to have a precise blend, like what we use. That's why I think our cider tastes better, we put a lot more care into it. It's a big part of our business, so we do a very nice blend. A lot of places just put in say all red delicious or all of one thing. So we have to wait until we have enough apples for our blend. Normally when we start harvesting all of the galas, that's when we have enough apples and we can start it back up.
Author: Jamie Oberdick
Bio: Editor, Local Food Journey | Passionate about supporting local food in Central PA