Posted by Alexandrea Scott on 04/01, 2016 at 01:07 PM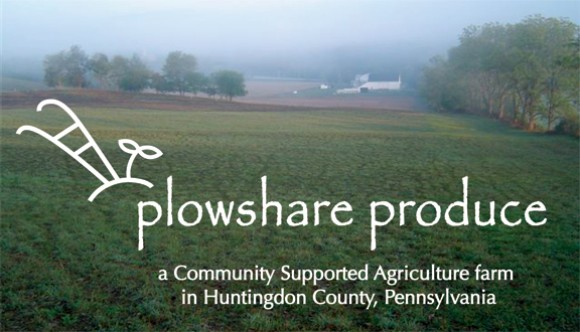 Plowshare Produce is a farm located in Huntingdon County. Michah and Bethany Spicher Schonberg have been fortunate to be a part of this business for the last eight seasons. They are able to use the land her parents own, and it is meaningful to the family. To get started they begin planting broccoli, tomatoes, and pepper seeds in the greenhouse, and since it has been nice they were able to plant spinach outside.
This is the time of year where they also begin gathering old and new members. Each member is asked to pay $625 in May, to receive weekly vegetables, May through November. To sell their produce, they set up tables at their church each week, and people bring their own bags and pick what they want. As of now, they have around 100 customers.
Talking to Bethany, she told me how they take a lot of suggestions from their customers on what to grow, and what they need more of. She said that when they started out, they tried every vegetable, but now they have an idea of what works best with the soil on their farm.
One thing I found interesting was that some customers help out around the farm, with bigger tasks like harvesting potatoes. Every farm has to face pests and plant diseases at some point, but they are learning that as long as they keep improving the soil and focusing on the best ways to keep the crops healthy, they can over come those set backs. They do use organic sprays on some plants, but very little.
When they have a crop failure, their customers understand. As a back up, they always plant extra of everything. The first harvest is set to happen for May 24. They will have asparagus, radishes, spinach, lettuce, herbs, broccoli, and baby turnips.
They don't really sell their produce to restaurants, but they are a part of the Tuscarora organic growers co op.
In the past they have grown flowers, but Bethany says once her kids get a little older, she would love to make more time for different varieties of flowers, but most importantly sunflowers.
For more information you can visit their website: plowshareproduce.com or take a trip to the farm! They are located along Route 26, in McAlevy's Fort, about 15 miles south of State College.
Author: Alexandrea Scott
Bio: Penn State Broadcast Journalism • Coffee & red lipstick • Travel addict