Posted by Jamie Oberdick on 10/17, 2013 at 01:22 PM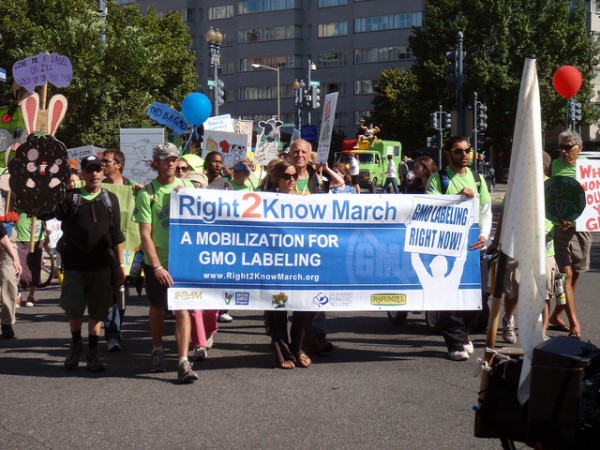 On yesterday's NPR show All Things Considered, correspondent Martin Kaste had a story on a food controversy that is growing—GMO labeling. This idea is growing steam especially in the Northeast, where Maine and Connecticut have already passed laws that require labeling on any foods that contain GMO (genetically modified organisms). From the story:
"The idea is gaining ground in the Northeast—Maine and Connecticut passed labeling laws this summer, though they won't take effect unless more states do the same. And GMO labeling is on the ballot this November in Washington state.
One aspect I didn't have room for in the radio story is the question of what might happen if the movement succeeds. In the U.S., something on the order of 70 percent of our food already contains at least some GMO ingredients, so the GMO label would suddenly become ubiquitous on most grocery shelves. How would consumers react?"
So, how might this effect the local food movement if Pennsylvania passed a GMO labeling law? I have several theories/ideas/crazy thoughts on how it might look:
- It likely could be a boon for many of our local producers and farmers markets. If people see GMO labels on everything staring at them at Wegmans, this may drive more consumers to buy more of their food at farmers markets or perhaps at the future Friends and Farmers Coop store.
- It could be a challenge for some non-organic local food producers, who in fact grow GMO crops. Or for people who make prepared foods such as salsas and jellies, as they would have to do more digging to confirm that their ingredient sources are non-GMO.
- A potentially bigger challenge might be for those who want to remain GMO-free but grow crops at risk for cross-contamination with GMO crops, such as sweet corn. If a small farmer is growing organic sweet corn but has a farmer growing GMO corn upwind from him, it would be quite difficult to keep out GMO pollen and likely impossible.
Author: Jamie Oberdick
Bio: Editor, Local Food Journey | Passionate about supporting local food in Central PA