Posted by Linda Weaver on 12/09, 2015 at 04:45 PM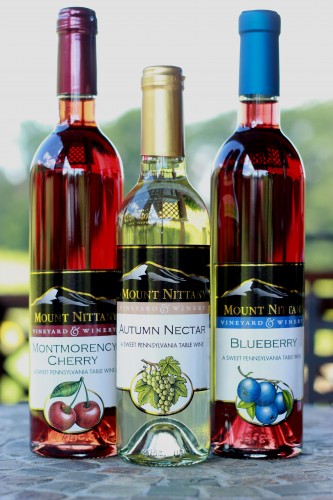 Whether you have a houseful of friends and family dining with you this holiday season or are looking for some tried and true favorites, we've come up with some cold-weather recipes that are easy to prepare and go well with some of our best-selling wines.
Herb Roasted Chicken with a Mix of Roasted Baby Root Vegetables
http://www.foodnetwork.com/recipes/emeril-lagasse/herb-roasted-chicken-with-a-mix-of-roasted-baby-root-vegetables-recipe/index.html
Wine Pairing: Serve a Mt. Nittany Winery Chardonnay Reserve with this dish. The mellow fruit in the wine will complement the chicken's subtle flavor, while oak-barrel aging adds a touch of toast and smoke to match the bird's crisp, golden skin. Fresh citrus flavors add a little zing to enliven the roasted vegetables.
Red Wine Beef Stew with Potatoes and Green Beans
http://www.foodnetwork.com/recipes/dave-lieberman/red-wine-beef-stew-with-potatoes-and-green-beans-recipe/index.html
Wine Pairing: A Nittany Mountain Red or Montage, both full-bodied dry red wines, will be excellent choices for this hearty entree—both as an ingredient in the stew and to savor alongside this dish.
Butternut Squash Soup
http://www.foodnetwork.com/recipes/butternut-squash-soup-recipe/index.html
Wine Pairing: The flavor profile and the acidity of Mt. Nittany Winery's Proprietor Select White will handle this soup's creaminess and spice and clean the palate as well.
Paula Deen's Pumpkin Pie
http://www.foodnetwork.com/recipes/paula-deen/pumpkin-pie-recipe/index.html
Wine Pairing: The key here is to find a wine that will echo the brown spices used in pumpkin pie. Generally, what works with pumpkin pie are late harvest wines made from white grapes. Mt. Nittany Vineyard and Wineries Autumn Nectar is similar in style to a German Eiswein and would be the perfect accompaniment to this fall favorite.
After dinner by the fireside…enjoy a warm mug of Mt. Nittany's Spiced Apple Wine or "Libby's Holiday Rose" mulled wine (recipe follows) made with our Mountain Rose. Or treat yourself to a small glass of Mt. Nittany Winery's new Port-style wine, Vermelho. This classic aperitif wine, named for the Portuguese word for "red", was aged for one year in American oak, and displays aromas of raspberry and cherry with a touch of sweetness.

"Libby's Holiday Rose" Mulled Wine

Ingredients:
One bottle of Mountain Rose

2-3 cinnamon sticks

6 whole cloves

1 large orange, sliced and cut into quarter sections

1/4 teaspoon apple pie spice

1/4 teaspoon ground cardamon

1/4 teaspoon ground coriander

2/3 cup brown sugar (or to taste)

1 cup lemonade
Steps:

- Tie up cloves, apple pie spice, cardamon, and coriander in a paper coffee filter or cheese cloth with a long, sturdy string.
- Heat and stir the lemonade and brown sugar until a simple syrup is formed.
- Add the spice bundle, orange slices and cinnamon sticks and simmer on low heat for 8-10 minutes.
- Add a bottle of Mt. Nittany Winery's "Mountain Rose" and continue to simmer another 8-10 minutes (do not boil). Enjoy!
Author: Linda Weaver
Bio: Marketing & Media Coordinator for Mount Nittany Vineyard & Winery / Mother of Three Boys / Penn State & UVA Grad / Lover of Cooking, Wine, and the Great Outdoors