Posted by Anna Lombardo on 11/12, 2014 at 01:57 PM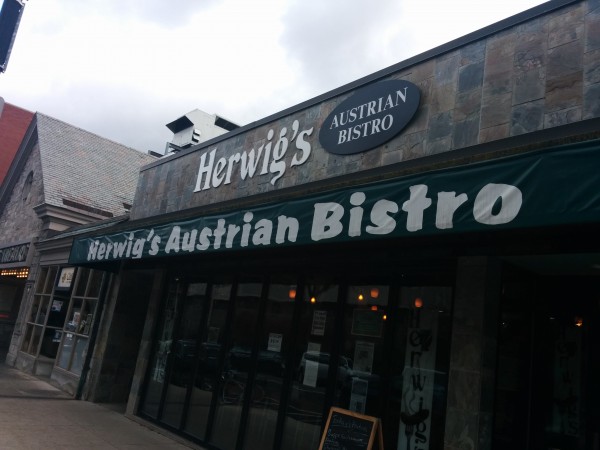 "Are you sure you want to tip before you eat?"
I had just sat down to talk with Bernd Brandstatter, one of the owners of Herwig's Austrian Bistro, when he called over to a group of patrons who had ordered their food at the counter and dropped some money into the tip jar. It was then that I had my first inkling that this wasn't going to be your typical dining establishment.
Some other clues that gave it away: there were signs all over the restaurant proclaiming that, at Herwig's, "Bacon is an herb" (in fact, Herwig himself—Bernd's father—trademarked the slogan); Bernd warned me that he often yells directly at customers, which sometimes earns him a bad review or two; and there was a list on each table explaining to customers that, if they don't finish their food, they can choose to wash their own dishes with "scrubby bubbles©," among other consequences.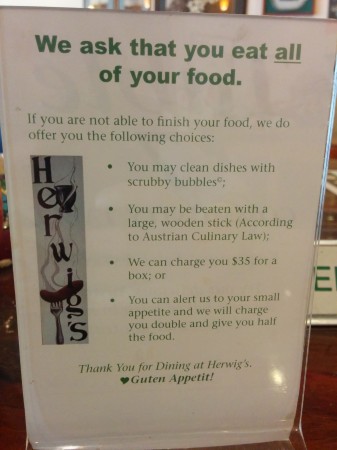 Bernd tells me that if Herwig's food wasn't good, they probably wouldn't be able to act the way that they do towards customers. But it is, and they do, and it works. Why is Herwig's food so good? "Everything is made from scratch," Bernd says. "We pride ourselves on it." While the restaurant does not
make use entirely of local ingredients, they do cook with local foods whenever they are available.
Pork, for example, is a staple at Herwig's (see the trademarked slogan above), and they get most of it—Bernd gives me a figure of 80%—from Hog's Galore in Philipsburg. Other ingredients depend on the time of year. Fish, especially trout, is a food they can "pretty much get" at any time (Herwig's serves fish whole on the bone).
In the summer, Bernd has an organic garden, where he grows vegetables, as well as mushrooms. For all his other needs, he visits local farmers' markets, mentioning the Bellefonte Farmers' Market specifically. He also allows patrons to bring in their own fresh vegetables, which he
is willing to exchange for soup. Because Herwig's ingredients are calendar-dependent, the menu changes every day, and this keeps the restaurant (and customers) on their toes.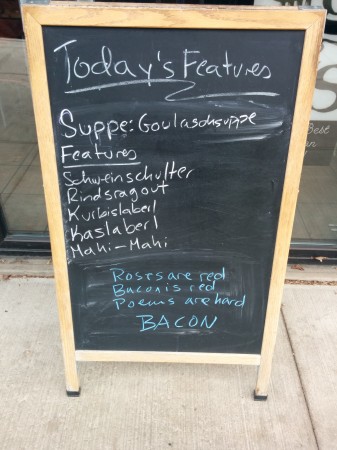 While Herwig's methods of obtaining ingredients might seem hodgepodge, Bernd stresses that quality is key. "If the client likes it, it's worth it," he says.
This also applies to the amount of work that Bernd and his crew put in to make the food. For instance, they make—by hand—six hundred sausages per week, and each batch takes them about four hours. That's a whole heck of a lot of sausage, but Bernd seems enthused as he discusses it.
Herwig's has a history as rich as its foods. Bernd and his father were both born in Austria. Bernd attended culinary school in the country, the same one that his father attended, and applied for a green card around the same time. When the family arrived in the U.S., they opened a restaurant in the Tussey mountain area called Herwig's Edelweiss (the edelweiss is the national flower of Austria).
After another business Herwig had opened, a travel agency, encountered difficulties in the post-9/11 climate, father and son together opened up the current restaurant in 2002 (albeit in a different location), and have been in their current location since 2006. Since then, they have been awarded "Best Ethnic Food in State College" by State College magazine multiple times.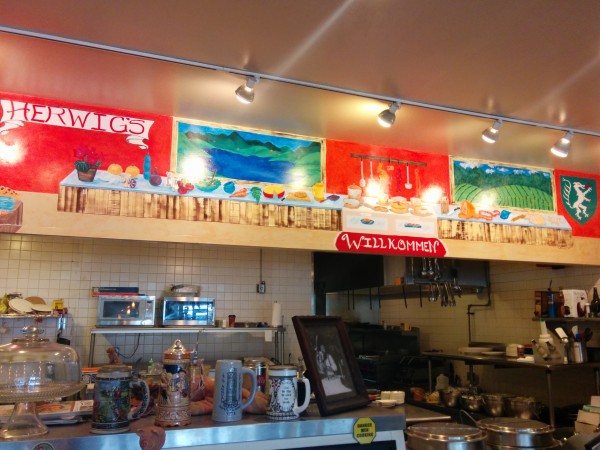 If it were up to me, I would award them "Best Dining Experience" as well. In the summer, the restaurant opens up its accordion-like front window and allows for customers to sit looking out over College Avenue. And, despite the risk of being yelled at, I admire Bernd's approach to customer service—"interactive" or "invasive," is how he defines it. "I want people to take something away from their dining experience," he said. "I don't mind talking to people I don't know."
Undoubtedly, everyone will take something away from eating at Herwig's. The restaurant has only 52 seats, so during busy times of the year (during the football season and fall, and also over Arts Fest weekend, where they double normal weekend sales), customers may have to sit with strangers. "In Austria, people don't mind sitting with someone they don't know," Bernd says. With long tables that seat 10 to 12 people—along with the many other pleasant features that the place offers—Americans looking for an authentic Austrian dining experience will likely find it at Herwig's.
Author: Anna Lombardo
Bio: Suburban Philadelphian English major at Penn State Avid learner, runner, and eater