Posted by James Sechrengost on 08/15, 2013 at 12:18 PM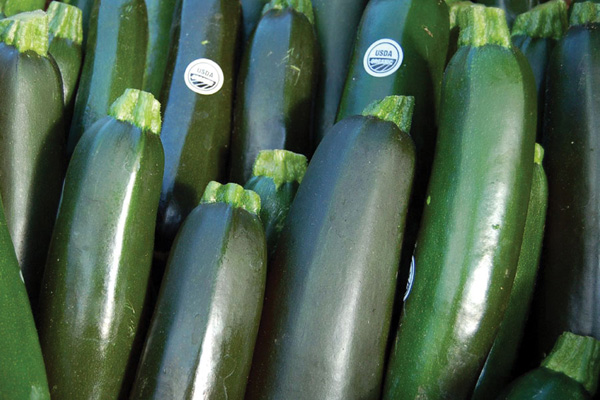 When I was a young lad I was in Sicily in the city of Palermo doing the tourist thing checking out the castles. After much walking around viewing the sights my tired feet and grumbling stomach reminded me I had not had lunch. I stopped in a small ristorante and had a dish similar to the recipe below. Years later I remembered the dish and recreated it from what I remembered. This recipe comes from a lot of trial and error, mostly error, until I got it to the point it closely matched my memory of the dish.
Stuffed Zucchini
1/2 cup(s) bulgur or quinoa prepared as directed
2 large (8 to 10 ounces each) zucchini
3 tsps. olive oil
1 medium onion, finely chopped
1-2 cloves garlic, finely minced
1/8 tsps. crushed red pepper
1/2 pound lean ground beef, you can use ground turkey
1 tsp. ground coriander
1 tsp. ground cumin
1/4 tsp. ground cinnamon
Salt and pepper to taste
1/4 cup fresh mint leaves, chopped
1 pint grape tomatoes
Parmigiano Reggiano or grated Parmesan
Steps
- Arrange oven rack 6 inches from broiler heat source. Preheat broiler. Line a cookie sheet that has small sides with foil.
- Trim zucchini and halve each lengthwise. Scoop out seeds and some pulp from zucchini halves, leaving 1/4-inch-thick shell. On microwave-safe plate, place zucchini cut side up in single layer and cover with waxed paper. Microwave zucchini on High 4 to 5 minutes or until very tender.
- In medium skillet, heat 2 teaspoons oil on medium-high until hot. Add onion and cook 3 minutes or until softened but not beginning to brown. Stir in garlic and red pepper and cook 1 minute longer or until fragrant.
- Add beef and cook 3 to 4 minutes or until no longer pink, stirring and breaking the meat up. Stir in coriander, cumin, cinnamon, and 1/2 teaspoon salt. Remove from heat. Stir in bulgur/quinoa and half of mint.
- In medium bowl toss tomatoes, 1/8 teaspoon salt, 1/4 teaspoon freshly ground black pepper, and 1 teaspoon oil.
- On prepared cookie sheet, Arrange zucchini halves, cut side up, place tomato mixture around zucchini to help keep them from rolling onto their sides. Mound 3/4 cup beef filling in each zucchini half, packing tightly.
- Broil zucchini and tomatoes 5 minutes or until beef browns and tomatoes begin to burst. Place zucchini and tomatoes on platter; sprinkle with remaining mint and Parmigiano.
When I lived in SoCal (Southern California) I had a neighbor who wanted to start growing her own vegetables. All part of the health food craze that was just starting out there at the time. Since she knew I was originally from Pennsylvania she assumed that I knew a thing or two about growing things. Luckily, for her, I grew up planting a truck patch garden every year. So I walked her through some things and helped her get started. She was so excited when she picked and ate her first ripe tomato. Things went well until she came into my kitchen caring what at first I thought was a baseball bat, here it was a zucchini. She hadn't checked her garden for a few days and she went out and there they were, zucchini bats. She tried cooking one of them but the skin was so tough she failed. So she brought me the other one hoping I could tell her how to use it. Together we came up with this recipe for a spicy soup.
Spicy Zucchini Soup
4 tablespoons extra virgin olive oil
1 onion, finely chopped
1 small jalapeno seeded and diced, you can use a large one if you like it spicier
3 garlic cloves minced
2 pounds chopped zucchini (skin on, unless it is one of those huge zucchinis that have the tough skin, then peel and remove seeds), about 5-6 cups
1 1/2 cups chopped day-old bread
3 cups chicken broth
1 cup water
1/2 cup fresh mint leaves, chopped
1/2 cup fresh cilantro, chopped
2 teaspoons lemon juice
Salt
Pepper
Steps
- Heat the olive oil in a large pot over medium-high heat. Add the onion and jalapeno and sauté for 4-5 minutes until the onions are softened, but not browned. Add the garlic and zucchini and sauté for another 3-4 minutes, stirring often. Sprinkle with salt.
- Add the bread, broth, and water, and bring to a simmer. Reduce heat and simmer gently for 20 minutes until zucchini is tender.
- Remove from heat. Add the mint and cilantro. Purée in a blender or food processor until smooth, working in batches if necessary. Or for those that are super chefs and have one, use an immersion blender.
- Return the soup to the pot. Add the lemon juice, and salt, and pepper to taste.
This soup is good both warm and chilled.
Author: James Sechrengost
Bio: Computer Guru | World Traveler and Foodie Extraordinaire | Member of the Been there Done that Club