Posted by Jordan Reabold on 02/03, 2014 at 03:16 PM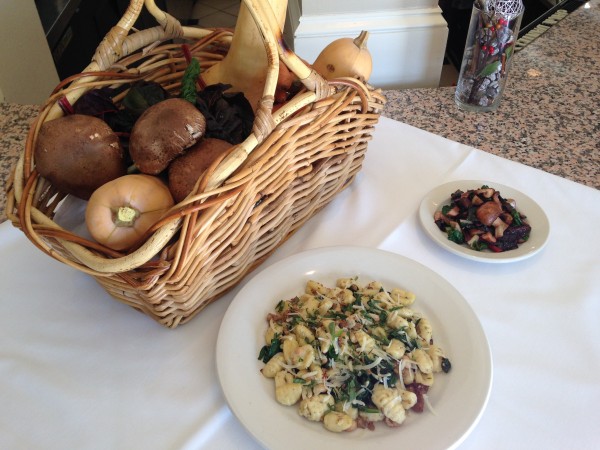 Valentine's Day is just around the corner, and love is certainly in the air at Harrison's—love for local food, that is! Harrison Schailey, owner of Harrison's Wine Grill on E. College Ave, came all the way from California as an organic farmer, hoping to bring some Left Coast influence to State College when he opened the restaurant. "After a while, I realized people didn't go for that."
What Harrison found was that people didn't want a taste of California—they wanted a taste of State College. And why wouldn't they? With the abundance of farms around the area offering a variety of options, it would be a shame not to take advantage. "It just made sense," he says.
Of course, the winter climate here in Central Pennsylvania is nothing like California, but Mr. Harrison has adapted. When it comes to vegetables especially, winter takes a toll on local produce. "It is difficult during the winter, especially now that it's been so cold, but we get what's available."
Among the list of vegetables are turnips, potatoes, carrots, and butternut squash. "What we always want are greens," Harrison explained, who noted that Tait Farm supplies his restaurant with greens like lettuce, though lately it's been rather difficult due to the extremely low temperatures.
Not only does Harrison's use locally grown fruits and vegetables, but locally raised meats and locally made pasta, cheese, and yogurt as well. When it comes to livestock, Harrison explains the 'tip to toe' method of supplying meat to his restaurant. "Meat is more difficult to work with because you run out easily."
Therefore, he receives a steer from a local farm, slaughtered just for use at Harrison's, and all parts of the meat are used—hence, 'tip to toe'. For two years, Harrison's has been supplying meat this way, and it seems to be preferred by Mr. Harrison himself. "This way," he says, "we have the freedom to make different cuts."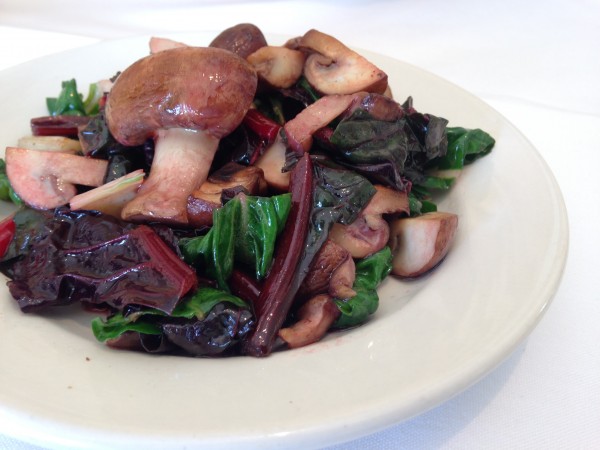 Harrison's fresh and local greens and mushrooms salad bring a hint of spring to our harsh Happy Valley winter
Yogurt, on the other hand, comes from Spring Hill Farm, while cheese comes from Goot Essa. "Goat cheese is what I get, but I'm hoping soon they'll make a fresh mozzarella," Harrison said.
In my opinion, Harrison's has one of the most unique menus I've seen, especially here in State College. For one thing, it's always changing. "We alter the basic menu about four times a year," Harrison said.
The section of the menu featuring seasonal local items, however, changes more often due to items that cannot be supplied year round. My favorite aspect of the menu is the monthly theme. Each month, Harrison's alters the menu and dedicates it to particular seasons, traditions, and of course, local foods. "January is healthy month," begins Mr. Harrison. "You know, after the holidays people try to get back on track, and we like to help them do that."
Summertime means seafood at Harrison's, then it's time for harvest in August, and Octoberfest in the fall.
If you're looking for a place to go for Valentine's Day, February is Harrison's rustic Italian month—what could be more romantic? However, Mr. Harrison keeps things respectable around this time of year. "Of course, come in on Valentine's Day! But we're not going to give you a heart-shaped steak," he says with a smile. "We're not a chain."
It is clear that Mr. Harrison takes his work very seriously, and Harrison's Wine Grill, from the menu to the atmosphere itself, makes it obvious. "Local tastes better," he simply states. "And it's good economically. I like to support local vendors and keep money in the area."
While he incorporates local items in his menu as much as possible, his goal is to someday serve food that is entirely local. "It's called Farm to Table, and that's exactly what it means."
Not to mention, being that he was previously an organic farmer, he wishes to grow a garden solely for the purpose of supplying his restaurant with the freshest food possible. And yet, his aspirations don't stop there. "I'd like to have a restaurant that's high in sustainability," he declares, noting that he hopes to include solar power and the process of saving rainwater as a way to make his restaurant more sustainable.
The future of Harrison's is definitely a bright one, and Mr. Harrison seems to have the perfect incentive to make it happen. To put it simply, he states, "We're about the food."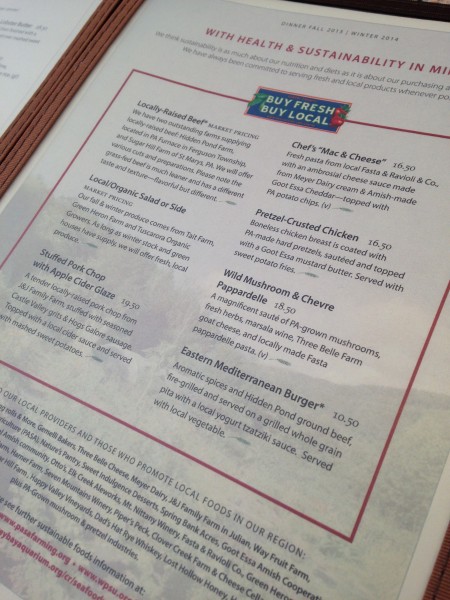 Harrison's Buy Fresh Buy Local menu is designed "with health and sustainability in mind"
Author: Jordan Reabold
Bio: Tamaqua, Pennsylvania native - English major at Penn State - Loves cupcakes, coffee, and campfires"