Posted by Michele Frank on 10/28, 2010 at 04:39 PM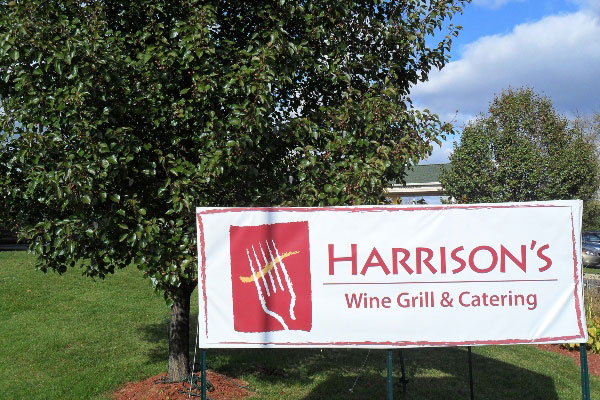 Hotel chains typically house generic restaurants, but Harrison's Wine Grill & Catering located in the State College Hilton Garden is an exception. The cuisine is inventive, and the restaurant is cozy and close to the kitchen where you can watch flames leap off the stovetop, adding an unexpected and entertaining aspect to your dining experience.
After being seated, I was impressed by the large selection of wines available. I chose a delicious Chardonnay and my boyfriend, upon recommendation from our waiter, choose Otto's Spruce Creek Lager. In its commitment to supporting local businesses and featuring local ingredients, Harrison's has local microbrews on tap, including ones from Elk Creek Café + Aleworks and Otto's Pub and Brewery.
We contemplated the menu over a basket of delicious bread from Gemelli's Bakery and decided we had to stick to dishes made with local ingredients. To start, we ordered the goat cheese fritter appetizer, which uses locally produced goat cheese. The cheese had a pleasant whipped, light texture that was complemented by a crispy fried coating. It was rich without being too filling—the perfect start to our evening.
Next we placed our entrée orders. Alan selected the andouille stuffed pork chops with sausage and pork both provided by J & J Farms in Center Valley. And I chose the spinach and ricotta ravioli, made by Fasta & Ravioli Co., with beef, pork, and lamb meatballs. The meatballs were made with only local meat: beef from Bergenblick Farms in Linden Hall, pork from J & J Farms, and local lamb.
When the dishes arrived, I was struck by their beautiful presentation—I almost didn't want to eat mine, but it smelled too good not to. Although the portions were on the small side, the dishes were very filling. Of course, we couldn't pass up dessert. We selected the mango sorbet, which was light and extremely flavorful and presented with a delicious ripe strawberry on top.
The meal at Harrison's was quite satisfying, and we left vowing to return for whatever dishes they add to the menu next season.
Harrison's Restaurant
1221 East College Avenue
State College, PA 16801
814-237-4422
Author: Michele Frank
Bio: Michele is a senior at Penn State majoring in print journalism. She loves to cook for her friends and family, and wishes to make a career out of her hobby. She spent last summer working for Gulfshore Life Magazine in Naples, Fla.