Posted by Kristin Camplese on 08/10, 2011 at 04:05 PM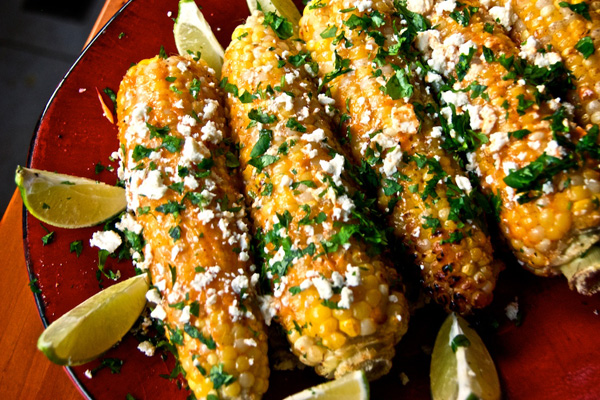 Please welcome Kristin Camplese who will stop by occasionally to share recipes from her popular food blog, Cuizoo.com!
My family and I recently pledged to eat local sweet corn for the last 30 days of summer vacation. It is not a hard task given how delicious it is. And while most nights we could eat it simply slathered with butter and salt, this recipe is one of our favorites. It is really a meal in itself as it combines rich seasonings, garlicky mayonnaise, and lots of cheese. Finish with a sprinkling of cilantro and a
squeeze of lime juice, and you will be licking your fingers and buying another dozen ears for tomorrow.
For the Mayo Mixture
1 cup mayonnaise
1 clove garlic, peeled and chopped finely
1/2 tsp ground cumin
1 tsp smoked paprika
Zest of one lime
Pinch of chipotle powder (or more to taste if you like it spicy)
1/2 tsp salt
Freshly ground pepper
For the Butter Mixture
2 Tbsp butter, melted
1/8 tsp smoked paprika
1/8 tsp ground cumin
1/8 tsp salt
Freshly ground pepper
For the Corn
1 dozen ears of sweet corn
1 1/2 cups Queso Fresco, Cotija, or Feta Cheese (in small crumbles)
1 cup cilantro, chopped
12 wedges of lime
Directions
Combine ingredients for mayonnaise mixture in a medium bowl. Combine ingredients for melted butter mixture in a separate small bowl.
Preheat grill and rub ears of corn with melted butter mixture.
Grill corn for about 8 minutes. (We use indirect heat and grill the corn for about 8 minutes, turning frequently, followed by about 1-2 minutes over the coals to char the ears lightly. I have also done this on a low flame gas grill — just be sure you are turning and moving the corn frequently so it doesn't char too much. The goal is to have the corn be just cooked with a slight char on it.) Remove corn from grill and place onto a platter.
Put cheese, cilantro, and lime wedges in separate serving bowls next to the platter of corn. Brush each ear of grilled corn with mayonnaise mixture. Then sprinkle with cheese, cilantro, and the juice of a lime wedge. (You can do the whole platter or allow guests to prepare their own ear of corn.)
Author: Kristin Camplese
Bio: Author of Cuizoo.com | Writer | Photographer | Wife and Mother of 2