Posted by Kristin Camplese on 06/05, 2012 at 10:59 AM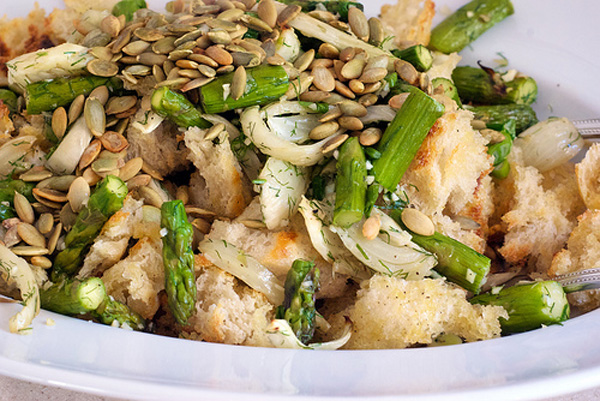 There are certain recipes that have nearly cult followings online, and the Zuni Cafe Roast Chicken and Bread Salad is one of them. I've never had it in person, but have heard so many people rave about it that I decided to put my own spin on it.
We split our game hens into halves and my husband grilled them over a charcoal fire (he gets props for the chicken being insanely good). However, you could just as easily roast them in the oven halved or whole. If you do them over charcoal, he would suggest starting the halves over the coals, skin side down, for a quick searing of the skin, and then moving them to the center to cook indirectly until they are just done. Keep a drip pan underneath them as you would typically do in a charcoal fire, and save the drippings so you can mix a bit into the salad at the end. Don't overcook and let the chicken rest for ten minutes or so before serving so it stays juicy.
The salad is garlicky and lemony with chewy bread toasted in olive oil, enriched with roasted asparagus and fennel, and topped with roasted chicken that will have you licking your fingers throughout. It would make a fantastic dish for entertaining because you can prep most of the ingredients beforehand, and then simply compose the salad after roasting or grilling the chicken. (Just save it for guests who don't mind deliciousness that necessitates finger licking.)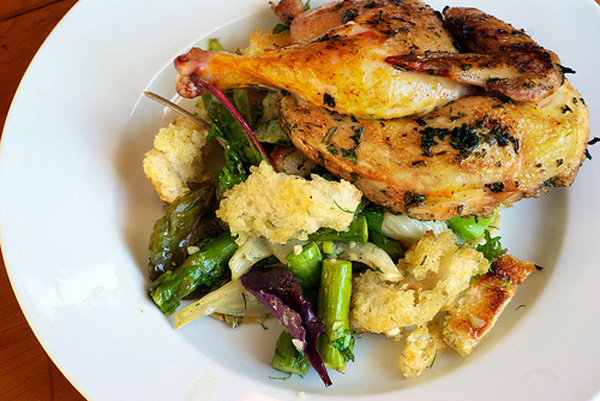 Serves 4-6.
Ingredients
2 small game hens, or 1 small roasting chicken
Olive oil
Fresh parsley, rosemary, thyme, and sage, chopped
Salt and freshly ground pepper
1 1/2 loaves of crusty sourdough or peasant bread (about 1 1/2 pounds, to yield 1 pound of crustless bread cubes)
1/3 cup of pumpkin seeds or pine nuts
1 bunch of asparagus, stemmed and cut into 1 inch pieces
1 fennel bulb, sliced and reserving 2 T of chopped fronds
2 large garlic cloves, chopped
1 or 2 scallions, chopped
2 or 3 large handfuls of salad greens, washed and dried
Dressing
1/3 cup of olive oil
Zest of one lemon, chopped
1/2 t salt
Freshly ground pepper
Juice of 1/2 of a lemon, or more to taste
Directions
Preheat oven to 425 degrees Fahrenheit. Split game hens in half (disregard if roasting whole) and place on a tray. Drizzle with olive oil and season both sides liberally with salt and pepper. Sprinkle generously with chopped parsley, rosemary, thyme, and sage (or other herbs of your choice) and rub the halves so the seasonings cover the chicken well. Put in refrigerator until ready to grill.
Remove crusts from bread (take a thin layer off, but you don't have to be 100% perfect … a little crust is OK) and tear bread into bite-sized cubes. I threw the crusts into a ziploc bag in the freezer and will use them for croutons in a salad at some point. Place bread cubes onto a cookie sheet and drizzle lightly with olive oil and season with salt and pepper. Place the pumpkin seeds on a separate, small baking sheet. Put both the bread cubes and pumpkin seeds in the oven to toast. The pumpkin seeds will take about 5-7 minutes and the bread cubes will take about 7-10 minutes. I broiled my bread cubes for a minute or two at the end, so they had some toastier parts. Remove both items from oven and set aside at room temperature.
In a roasting pan, combine asparagus pieces and sliced fennel. Drizzle with a bit of olive oil and season with salt and pepper. Roast in oven for about 20 minutes until they are nicely cooked (but not overdone) and the fennel starts to caramelize a bit. You can also broil this for a minute or two at the end if you want a little extra char or caramelization. Remove from oven and toss with chopped garlic, chopped scallions, and chopped fennel fronds. Set aside at room temperature. (Steps 1-3 could be done early in the day if you are entertaining.)
Remove chicken from refrigerator and prepare charcoal grill for an indirect fire. (If you like, you can start the grill before steps 2 and 3 if you are doing this all at once, rather than prepping ahead of time.) Place chicken halves over the fire on the grill (with a drip pan in the middle), skin side down and sear for 2-3 minutes. Flip and move to center of the grill (over the drip pan) and cook indirectly for about 30-40 minutes until done. Remove to platter and let rest for about 10 minutes.
While chicken is cooking, combine dressing ingredients in a small bowl (could also be made ahead of time). In a large salad bowl, combine toasted bread cubes, roasted asparagus and fennel, and toasted pumpkin seeds.
While chicken is resting, skim a layer of fat off of the drippings and mix one or two tablespoons of remaining drippings with bread cubes and other ingredients. Add a few handfuls of salad greens and toss with about half of the dressing. Taste for seasoning and add more dressing if necessary, as well as additional salt and pepper.
To serve, give each person a nice helping of the bread salad, top with a portion of the roasted chicken (a leg, thigh, or breast piece — or a combo) and serve with remaining dressing on the side.
Author: Kristin Camplese
Bio: Author of Cuizoo.com | Writer | Photographer | Wife and Mother of 2