Posted by Christina and Erin on 03/17, 2011 at 01:55 PM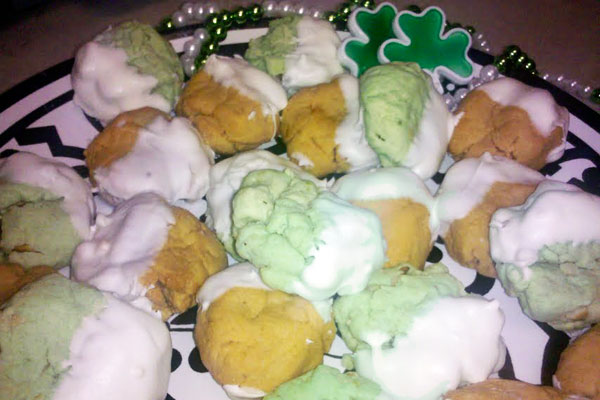 Get into the spirit of Saint Patrick's Day with these festive cookies! Pistachio pudding provides the green coloring, but you could substitute another flavor like lemon or butterscotch.
Ingredients
3/4 cup butter (or margarine)
1 1/4 cup flour
1 packet Jello-O pudding (we used pistachio)
1 teaspoon vanilla extract
White chocolate morsels (optional)
Directions
Preheat the oven to 375 degrees. Combine pudding mix, butter, and vanilla in a medium bowl. Gradually add flour, while continuing to mix. Drop tablespoons of dough onto a baking sheet, and bake for 10 to 15 minutes. Let stand for about 5 minutes before dipping into melted white chocolate for an extra burst of sweetness!
Author: Christina and Erin
Bio: Christina Barkanic is a senior at Penn State majoring in broadcast journalism and minoring in sociology. She has a passion for journalism, the outdoors, good food, and good company. Ideally, she would like to combine all four by producing her own nature meets organic cooking show one day. Erin Donahue is a senior at Penn State majoring in broadcast journalism with a minor in sociology. She's excited to share her passion for food, writing, and multimedia.