Posted by Steve Spanelli on 05/31, 2011 at 02:31 PM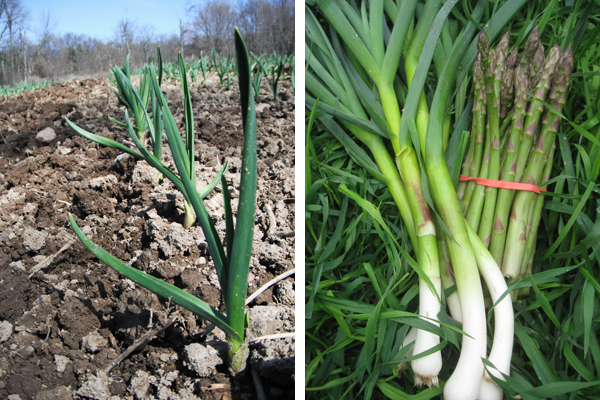 Green garlic is the early spring garlic that eventually turns into the normal bulbs of garlic that we all use day to day. Demand for green garlic is growing as more restaurants have added it to their menus and people have discovered its mild, but distinct, flavor. It is still primarily available at farmers markets and farm stands, but you may also spot it at gourmet markets. This pesto recipe is the perfect celebration of the arrival of green garlic. Serve it over pasta or spoon it onto grilled bread. Enjoy!
Ingredients
1/2 lb green garlic
a pinch red pepper flakes
1/4 cup plus 2 tablespoons olive oil
1/4 cup pine nuts, rough chopped
1/4 cup pecorino cheese, grated
1 lemon, juiced
salt and pepper
Directions
Trim green garlic and thinly slice. In a large sauté pan over medium-high heat, add 2 tablespoons of oil, green garlic, and red pepper flakes; cook until soft, just a few minutes. Let cool. Place green garlic mixture into a food processor and process until smooth. With motor running, drizzle in olive oil and lemon juice. Next, pulse in pine nuts and cheese. Finally, season to taste with salt and pepper.
Don't forget to share your favorite asparagus recipe before midnight tonight, May 31st, for your chance to win a $25 gift certificate to Tait Farm Foods! A winner will be randomly selected and announced tomorrow, June 1st.
Author: Steve Spanelli
Bio: Tait Farm Farmer | Community Harvest CSA | Chef| Lover of Food, Farming, and Cooking | Author of Cook's Column, Community News, and Good Earth e-publication for Tait Farm | Contributor for Bon AppeTait