Posted by Kristin Camplese on 04/25, 2012 at 03:05 PM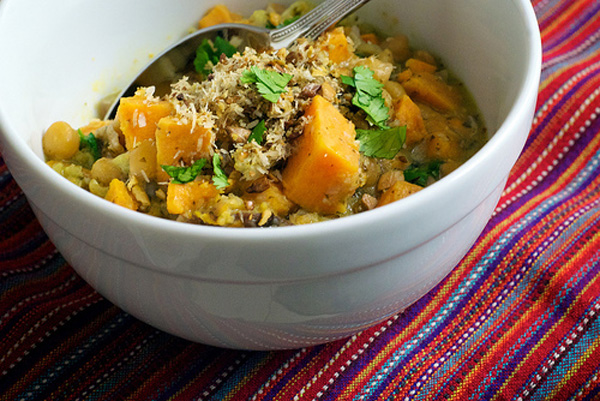 Curries fall into the category of totally flexible and easy and cheap weeknight meals. Lentils (or in this case, garbanzos) or Tofu are perfect for vegetarian options — but any kind of meat or seafood protein works equally well. Vegetables can be anything that you have on hand, provided that you have a nice amount of ginger and garlic. If you don't have coconut milk and Thai curry paste (which take you in the Thai Curry direction), you can go the Indian Curry route and use a good quality Indian/Madras curry powder and garam masala with some broth or water. Serve it over rice if you like — or without rice and thick like a stew, or thinned out as a soup.
Serves 4-6
Ingredients
1 1/2 cups dried chick peas (or 2-3 cans of chick peas)
2 small red onions
2 large sweet potatoes
1 cup of mushrooms
3 cups of shredded cabbage or spinach
4 cloves garlic
2 inch piece of fresh ginger
Zest and juice of one lime (plus additional wedges for serving)
1/2 t salt
1/2 t white pepper
1/2 t cumin
1/2 t coriander
15 ounce can of unsweetened coconut milk
1 T soy sauce or fish sauce
1 cup, plus 3 T fresh cilantro (packed)
1/4 cup of unsweetened coconut
1/4 cup of pumpkin seeds (or other nuts/seeds)
Olive oil
Directions
If using dried chick peas, rinse them and place in a medium sauce pan or stock pot. Cover with plenty of water, bring to the boil, reduce heat and simmer for 60-90 minutes until tender. (You can also do a long soak method or skip this step if using canned.)
Make Green Curry Paste by roughly chopping garlic and ginger. Put in the bowl of a food processor or blender. Add zest and juice of lime, salt, white pepper, cumin, coriander, 2 T of the coconut milk, soy or fish sauce, and 1 cup of the fresh cilantro. Process until very smooth and set aside.
Peel and chop the onions. Peel and chop the sweet potatoes into approximately 1/2 inch cubes. Stem and slice the mushrooms. Shred the cabbage or spinach.
When chick peas are done (or whenever if they are canned), strain them and set aside.
Preheat the oven to 400 degrees Fahrenheit. In a stock pot, heat a bit of olive oil over medium heat. Saute the onion for 3-5 minutes. Add sweet potato cubes, chick peas, and all of the Green Curry Paste you made previously. Stir in remainder of coconut milk from the can, plus about 3/4 cup of water. Cover and cook about 20 minutes over medium low heat until everything is tender.
Meanwhile, roughly chop the pumpkin seeds and place on a baking sheet. Toast in a preheated oven for about 10 minutes. With about five minutes remaining, add the coconut and toast both pumpkin seeds and coconut until golden. (Watch the coconut especially so it doesn't burn.) Remove and set aside.
When the curry mixture is basically done, add in sliced mushrooms, shredded cabbage or spinach, and about 3/4 cup of additional water (less if you don't want as much "broth"). Let cook, uncovered, for another 5-10 minutes until everything is tender and the sauce is reduced a bit. Season to taste with additional salt and pepper and feel free to season with chiles to make it spicier.
Serve in large bowls (over rice if you like) with additional chopped cilantro, wedges of lime, and the toasted coconut/pumpkin seed mixture sprinkled on top.
Author: Kristin Camplese
Bio: Author of Cuizoo.com | Writer | Photographer | Wife and Mother of 2