Posted by Jamie Oberdick on 07/30, 2014 at 10:59 AM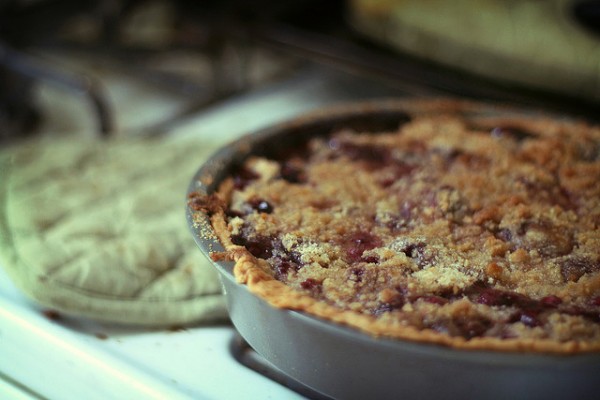 Summer is a perfect time to bake pies, given all the fresh produce available. So many fruits, like peaches, and berries, like blueberries, are in season and can be found in farmers markets, roadside stands, and backyards all across our area. Do you have a pie you are particularly proud of? Then enter it in Friends & Farmers Coop's "A Slice of Community: People's Choice Pie Contest", to be held Saturday, Aug. 2 as part of the 2014 FarmFest from 11:00 a.m.-4:00 p.m.
"You don't have to be a professional baker to enter," said Michele Marchetti, Coop board member. "This is a people's choice pie contest and another way the cooperative is bringing people together around food."
Pie categories include:
- Amateur or Professional (defined as some who works for a bakery, works for or owns a catering company or sells pies)
- Children (age 8-17) or Adults (18 and over)
- Sweet, Savory or Gluten-free/Vegan
Kitchen Kaboodle and Webster's Bookstore & Cafe are donating the following prizes:
- An autographed copy of "Seasons of Central Pennsylvania: A Cookbook "by Anne Quinn Corr
- An Emile Henry French ceramic pie dish
- Stainless steel pie server
- A French pastry rolling pin, petite pie mold, rolling pin rubber rings, and a kid-friendly spatula.
You don't have to be present to participate. E-mail .(JavaScript must be enabled to view this email address) if you need to utilize their State College pie drop-off.
"With our mission focusing on local producers/products, we encourage bakers to use local ingredients," Marchetti said. "For each local ingredient used, the pie will be awarded three additional points. However, local ingredients are not a prerequisite. Also, in preparation for our pie contest, we've been offering tips, recipes and inspiration on Facebook and our blog. "
Not a baker? You can still participate as a judge. The pies will be judged by FarmFest attendees.
For more information and contest rules, please go to http://www.friendsandfarmers.coop/pie-contest/.
Author: Jamie Oberdick
Bio: Editor, Local Food Journey | Passionate about supporting local food in Central PA