Posted by James Sechrengost on 07/29, 2013 at 01:20 AM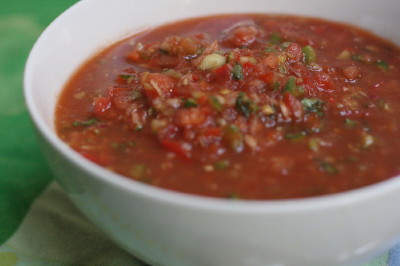 This is a great farmers market recipe. I got this recipe when I was working in a restaurant in Sun Valley, CA. The restaurant is long gone but this recipe carries on with me.
Gazpacho
2 cloves garlic, minced
1/2 whole red onion, diced
1 whole large cucumber, diced
5 whole roma tomatoes, diced
1 whole zucchini, diced
2 stalks celery, diced
1 dash salt to taste
1/4 gallon tomato juice
1/4 cup extra virgin olive oil
1/8 cup red wine vinegar
2 tablespoons white sugar
6 dashes Tabasco sauce
1 dash black pepper to taste
Steps:
In the bowl of a food processor or in a blender, combine half of all the ingredients and a dash of salt.
Pulse until all ingredients are blended well; mixture will have a nice speckled, colorful texture.
Pour into a large bowl and add the rest of the tomato juice, and half of the remaining onion, cucumber, tomato, zucchini, and celery. (Reserve the rest of the diced vegetables for garnish.)
Stir mixture together and check seasonings, adding salt if needed. Chill soup for at least a couple of hours; soup needs to be very cold!
Remove the soup from the fridge and stir. Check seasonings one last time. Ladle into a bowl and garnish with remaining diced vegetables.
Serve with some nice garlic toast or slices of avocado.
Author: James Sechrengost
Bio: Computer Guru | World Traveler and Foodie Extraordinaire | Member of the Been there Done that Club