Posted by Kristin Camplese on 08/25, 2011 at 06:21 PM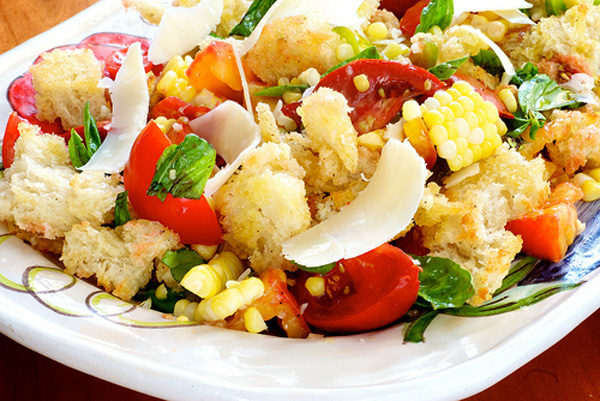 Tomatoes of all shapes and colors are still in abundance at the local markets. Pick up a box and let us know how you use them! Share your recipe by August 31st for your chance to win a $25 gift Elk Creek Cafe + Aleworks in Millheim.
Continue reading for one of Kristin's favorite simple late summer recipes.
Ingredients
1 1/2 loaves of sourdough bread (about 1 1/2 pounds)
4-5 ears of corn, husked
1 large handful of basil, washed and torn into pieces
4-6 heirloom tomatoes, cored (I used 2 large and 4 smaller ones)
3-4 Tbsp good quality extra-virgin olive oil (plus 1 Tbsp)
1 1/2 Tbsp lemon juice
1-2 cloves garlic, peeled and finely chopped
Coarse sea salt or kosher salt
Freshly ground black pepper
Parmigiano Reggiano cheese
Directions
Prepare bread: Preheat oven to 375 degrees Fahrenheit. Remove crusts from bread (reserve crusts for another use) and tear bread into bite size pieces. Don't cut it — the rustic nature of the torn bread is perfect. Toss the bread with 1 Tbsp olive oil and salt and pepper. Place on a baking sheet and toast (stirring occasionally) for about 8-10 minutes until just lightly toasted. Set aside.
Prepare corn: Cover ears of corn in a large pot with cold water. Bring water to the boil (as soon as it boils, the corn is done). Remove and allow to cool for a few minutes. Cut corn off the cob and set aside.
Prepare dressing: Mix 3-4 Tbsp of olive oil with lemon juice, chopped garlic, a healthy pinch of salt, and freshly ground pepper.
When you are ready to serve, cut tomatoes into wedges or small chunks. On a large platter or in a bowl, gently mix toasted bread, corn, tomatoes, basil, and dressing. Taste and adjust with more salt and pepper or additional olive oil if necessary. Using a vegetable peeler, make large strips of Parmigiano Reggiano and scatter over top of salad. Serve immediately. Serves 6-8.
Author: Kristin Camplese
Bio: Author of Cuizoo.com | Writer | Photographer | Wife and Mother of 2