Posted by Jessica Reilley on 07/12, 2010 at 06:44 PM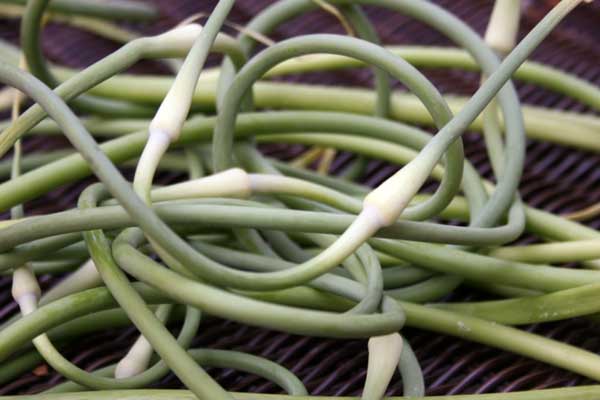 We received about half a pound of garlic scapes two weeks ago from our CSA. Even though I've seen and heard of scapes, I wasn't sure what part of the garlic plant the scape came from.
The scape is a flowering stalk that is removed from the garlic bulb to focus the garlic's energy into growing the bulb. I wasn't sure what to do with our pile of scapes, and then a friend recommended I try making a pesto out of them.
If you like garlic, then you'll enjoy this spicy, pungent pesto. It's great for pasta, sandwiches, or plain old dipping.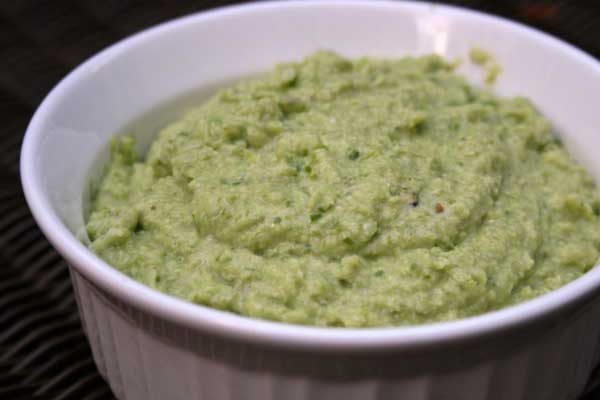 Yields 2 1/2 cups
Ingredients
1/2 lb garlic scapes (about 15 scapes)
3/4 cup shredded Parmesan cheese
1/3 cup pine nuts
1/2 - 1 cup extra-virgin olive oil
Juice from half a lemon
Salt and pepper, to taste
Directions
Roughly chop the garlic scapes, then place them in a food processor. Add the Parmesan cheese and pine nuts and pulse the mixture until it's roughly chopped.
With the food processor running on low, slowly drizzle in the olive oil. Process until the pesto is thick and creamy. If you prefer a thinner pesto, add more olive oil.
Squeeze in lemon juice and season with salt and pepper, to taste.
(Adapted from The Hungry Mouse)
Author: Jessica Reilley
Bio: Jessica Reilley is a Penn State grad with a passion for food, cooking, and photography. For three years, she owned a personal chef business before taking a break to spend more time with her family and young son. Jessica lives in Gilbertsville, Pa.