Posted by Jamie Oberdick on 10/28, 2015 at 10:59 AM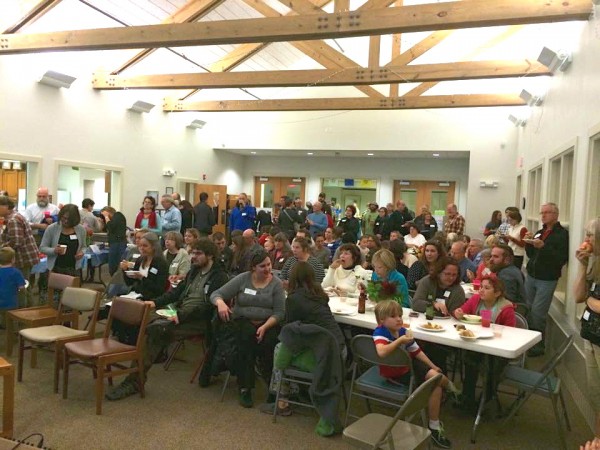 On Oct. 16, Friends & Farmers Cooperative had a strong turnout for their second annual membership meeting. While this was great news for Friends & Farmers' board, the bigger picture is even brighter for the local cooperative, which is still working towards a goal of local food grocery store in the State College area.
For starters, Friends & Farmers received a $93,000 grant for its online market from the United States Department of Agriculture. "The grant will help increase the market share and visibility of local food," Michele Marchetti, Friends & Farmers board member, said. "Basically, it's going to support three activities."
The first activity is a wholesale online market, which will connect local restaurants and institutions to local ingredients and provide local producers with some new outlets. Second, the grant will increase the customer base and sales of the Friends & Farmers online market. "The online market has already contributed more than 70K to the local economy," Marchetti said.
The third activity that the grant will support, Marchetti said, is an educational outreach campaign that has two goals. One is to increase online market sales, and the other is to promote the preparation and consumption of local foods.
To make sure all of this happens, Marchetti said, the grant will enable Friends & Farmers to hire two part-time employees. "We need to hire a grant administrator, and a marketing manager," she said. "The marketing person will create and distribute publicity to support the grant activity. We have a $15,000 publicity campaign that this grant will fund, which is pretty exciting."
"The grant administrator will make sure that we follow the guidelines that are set for us in the grant," Marchetti said. "It's really just following what the grant requirements are and making sure we're not overstepping our boundaries in terms of how we're spending the grant money."
One thing that Marchetti said was important to remember is that while the grant money was helpful for the online market, they still need to build membership so they can open the grocery store. "It's really important for people to understand that while the USDA grant money is fantastic and will help bolster the online market, the membership campaign is still critically important," she said. "We still need equity in order for us to open the brick-and-mortar store. We don't want people to get the impression that because we have these grants, now we have the funding to open the store; we don't."
"The biggest way to support the Friends and Farmers is to go online and become a member," Marchetti added.
As Friends & Farmers takes more steps toward the goal of a brick-and-mortar grocery store, Marchetti said that she has heard skepticism from some who wonder why State College needs another grocery store. She said there are several distinctions between what Friends & Farmers is planning and already existing grocery stores.
"For starters, it will be democratically owned, which means the decisions will be made to benefit the people who shop there, and to benefit the community in general," Marchetti said. "Second, it will source as locally as possible…and not paying lip service to the idea of local but embracing it. We're going to be hyper-aggressive in sourcing locally. And then finally there will be transparent labeling so you will know exactly where your food was grown, how it was grown or raised, and you'll learn more about our local farmers in the process. That really sums up why it is different and worth an investment."
As for those farmers, Marchetti said that overall the agriculture community has been very supportive of Friends & Farmers, and noted that the cooperative is all about supporting the farmers. "What our farmers do isn't easy, and if we don't as a region step up and support them, then they might not be there one day," she said. "That would be very sad for this community."
Author: Jamie Oberdick
Bio: Editor, Local Food Journey | Passionate about supporting local food in Central PA