Posted by Jamie Oberdick on 05/23, 2013 at 03:16 PM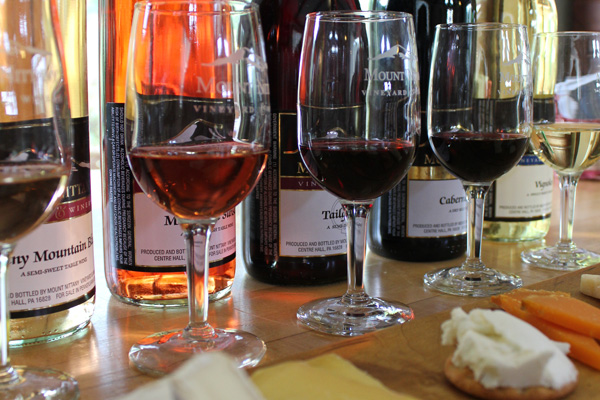 Post by Jamie Ryan, Wine Consultant & Educator, Mt. Nittany Winery
In wine and food pairing, the fundamental goal is balance. The flavors found in both the wine and the elements of a dish should be balanced and neither should overpower the other. A well-matched pairing should enhance the existing elements of each and ultimately bring out new flavors that are not detected in the wine or food when they stand alone. As a wine educator, the most frequent questions my students always ask how they can make safe pairing choices when they are on their own, either at home or dining out. Here are some basic guidelines that are fairly universal in the world and I find that they are a great place for beginners to dive in and start playing with their pairings.
Pair Salty and Sweet - A salty cheese pairs well with a sweet dessert wine. As we all love salty sweet desserts, salted caramel, chocolate covered pretzels, the combination literally makes our mouth water as they bring out and enhance the subtle flavors found in each. A classic choice would suggest selecting a cheese from the blue cheese family and pairing it with a dessert wine such as ice wine, Sauternes or a port.
Match Acidity with Acidity - A higher acid dish, such a citrusy scallop ceviche, will pair very well with a higher acid white wine such as a Sauvignon Blanc. The compatibility of the acids in both the citrus sauce of the dish and wine help to show each other off. A low acid sauce, such as a heavy creamy shrimp Alfredo may cause a good quality higher acid wine to taste sharper and dryer than it does alone.
Offer Creamy with Tannic - A creamy higher milk fat cheese such as a triple cream brie, will offset the high tannins found in some red wines such as a young Cabernet or Bordeaux. Tannin is often identified as a bitter flavor and it is the astringency from the tannins that causes the sensation of dryness on the tongue and overall puckering feeling in the mouth. A richer, higher milk fat cheese can coat the tongue so the creaminess acts as a buffer and softens the tannins, bringing forward the fruit flavors in the wine.
Characters Match – It said to match body, boldness and complexity when pairing wine with food. This comes from the concept that we do not want either the food or the wine to overwhelm the other, so we look for common characteristics in both the food and the wine in make our match. For example, a delicate light bodied white wine may pale in comparison to a Filet Mignon steak, the light gentle white may be better suited to a lemon poached filet of tilapia and a smokey Cabernet Franc may hold true to the thick rich texture of a steak.
Opposites Attract - In some cases, opposites attract in the culinary world of wine pairing. A rich creamy crab bisque would complimentarily contrast an off-dry Riesling. In this pairing, the why lies in how the weight and body of the bisque is cut nicely by the gentle acidity offered up by the off-dry wine. By comparison, a light young and fruity Pinot Noir is an excellent pairing with big bold char-grilled flavors found in pork or beef ribs. Here, even though the body of the Pinot Noir is light, its big fruity flavors hold their own against the smokey richness of the meat.
Overwhelmed yet? Just remember that pairing is subjective and there are no cookie cutter rules to predict the perfect pairing. Just as all cheddar cheeses are not created equally, the same is to be said when it comes to wine. In tasting wine we can talk about what style to expect from a specific varietal, such as chardonnay, but it is just that: talk. What we taste is entirely different and that is why pairing wine and cheese is fun for everyone…there are no set rules; it is all a matter of taste.
Author: Jamie Oberdick
Bio: Editor, Local Food Journey | Passionate about supporting local food in Central PA