Posted by Jamie Oberdick on 10/02, 2015 at 01:50 PM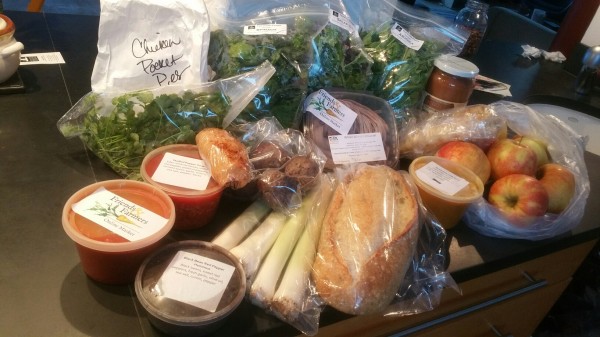 The United States Department of Agriculture announced that the Friends & Farmers Cooperative Online Market received a $92,000 USDA grant to increase local food consumption and production in Centre County.
Friends & Farmers Cooperative plays a vital and growing role in the burgeoning local food movement. In one year, its retail Online Market has sold more than $70,000 worth of locally grown and produced food. The Online Market is a stepping stone to the co-op's planned brick and mortar store. Owned and financed by the community, this store will source as much as possible from farmers within 50 miles of State College.
The USDA "Local Food Promotion Program" grant provides a substantial boost to the Friends & Farmers Online Market. More important, it will increase sales for local farmers, grow the local economy and allow the community to benefit from a more resilient local food system.
The grant funds:
• The establishment of an all-local wholesale Online Market, strengthening the underdeveloped supply chain linking local producers to restaurants and institutions.
• A strategic marketing campaign that will continue to grow the retail Online Market.
• A traveling course that will promote the value of participating in a vibrant local food system and teach people how to eat well (and local) on a budget.
Today's announcement is part of a USDA-wide effort to support President Obama's commitment to strengthening local and regional food systems. These grants are administered by USDA's Agricultural Marketing Service (AMS) and Food and Nutrition Service (FNS), and made possible by the 2014 Farm Bill.
"We will continue supporting local and regional food systems, which are drawing young people back to agriculture, generating jobs, and improving quality of life in rural communities," said Agriculture Secretary Tom Vilsack. "Since 2009, we have seen a 75% growth in farmers markets nationwide and sales of local food rose to an estimated $12 billion in 2014, much of it through sales from farms to local grocers, institutions and restaurants."
You can find out more about Friends and Farmers via any of the following:
E-mail: .(JavaScript must be enabled to view this email address)
Web: http://www.friendsandfarmers.coop and https://www2.localfoodmarketplace.com/friendsfarmerscoop/
Facebook: www.facebook.com/FriendsandFarmersCoop
Twitter: @Friends_Farmers
Instagram: friendsandfarmerscoop
Author: Jamie Oberdick
Bio: Editor, Local Food Journey | Passionate about supporting local food in Central PA