Posted by Jamie Oberdick on 02/24, 2017 at 02:00 PM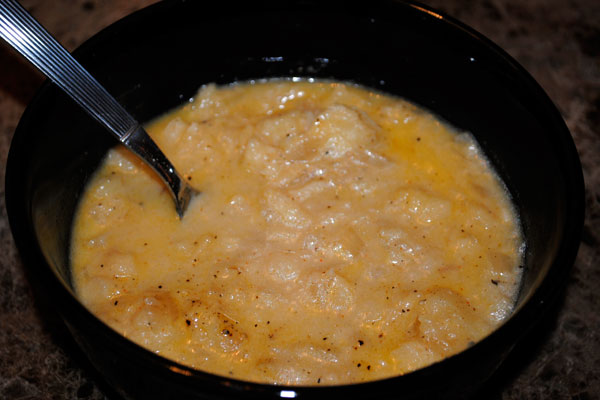 Love soup? Love making soup? Then here's the event for you.
Friends & Farmers Cooperative will hold its Souper Sunday Soup Swap at 6:00 p.m. Sunday, Feb. 26 at the Meetinghouse on Atherton in State College. A shared meal will be provided by Tap Root Kitchen.
The event will happen just as the colder winds blow in Saturday to remind us that we're not quite in spring yet.
So how does a soup swap work? Here's the deal, via the Coop website:
AT HOME:
1. Choose your favorite FREEZABLE soup recipe (cream-based soups do not freeze well). Chili is acceptable.
2. Make enough soup to almost fill three - 1 quart containers (This will likely require you to make 2 batches). Please give approximately 1/2 inch space for the soup to expand as it freezes.
3. Divide soup into three 1-qt gladware-type containers (i.e. disposable, b/c you will not get them back, but you will get 3 replacements). Let the soup cool to room temperature.Potato_Leek_Soup-1024x723.jpeg
4. Label each quart with the type of soup and whether or not it is vegetarian/vegan. Place soup quarts in the freezer.
5. Make a bunch of copies of your recipe.
AT THE SWAP:
6. Upon arrival, you will get to pick a number. Your number corresponds to the order in which you select your soup. The draft will snake around - in other words, when we arrive to the last number, that person will start the second round and we will pick in reverse order.
7. Please feel invited to join us in a shared meal provided by our friends and Taproot Kitchen at 6pm. At 7pm, a brief intro and description of the soups will occur and we will begin the swap.
8. Collect as many recipe copies as you like.

PLEASE FOLLOW THESE RULES:
- Store/restaurant-bought soups are not allowed in this swap.
- If you can't cook or don't dig on soup or if you are the partner/spouse of someone who is cooking the soup, feel free to come by to witness the soup draft frenzy.
- RSVP is a must! Also, closer to the date, please be sure to post what type of soup you are bringing (and if it is vegetarian/vegan). It helps avoid too much duplication.
- If you are unable to attend, but are desperate to participate, you may draft by proxy, either by sending a representative or by dropping off soup ahead of time trusting us to draft for you. Note: the soup goods must be delivered in order to draft. No soup, no draft.
For more information about the Co-op and the Soup Swap (including how to join the Co-op) please go to: http://www.friendsandfarmers.coop
Author: Jamie Oberdick
Bio: Editor, Local Food Journey | Passionate about supporting local food in Central PA