Posted by Emily Reddy on 07/30, 2010 at 06:00 PM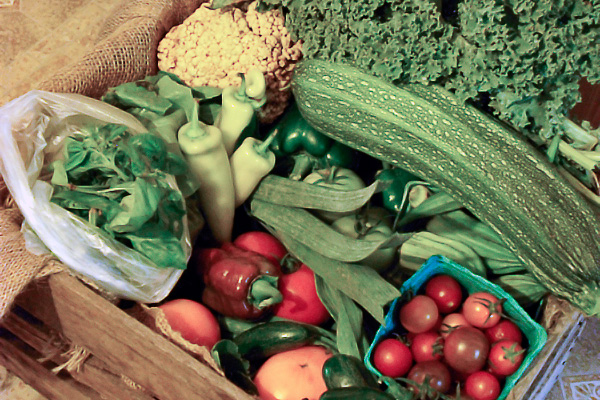 Every Friday evening my housemate Kristen brings home a wooden crate overflowing with fresh-picked vegetables. This cornucopia is not from the grocery store.
Kristen is a member of a CSA (Community Supported Agriculture) at Greenmore Gardens just outside of State College. At the beginning of the growing season, CSA members buy in on the vegetables, fruits, and herbs the farm will produce throughout the season. Then they get a "share" (see vegetables, above) once every week or two. The contents of the box vary from week to week, and I always get a kick out of checking out Kristen's haul (and helping her eat it). The green tomatoes and okra in last week's share (again, above) were a new addition from the week before. No telling what will be in the box that shows up in my kitchen tonight.
Bonus feature: Check out my story on organic farming from back in February. I interviewed the head farmer at Greenmore and the owner of Tait Farm.
Are you a CSA member? Which one do you belong to?
Author: Emily Reddy
Bio: WPSU-FM News Director and Reporter. Daughter to a food-obsessed chef. Learning to cook on my own.