Posted by Jamie Oberdick on 04/19, 2017 at 01:35 PM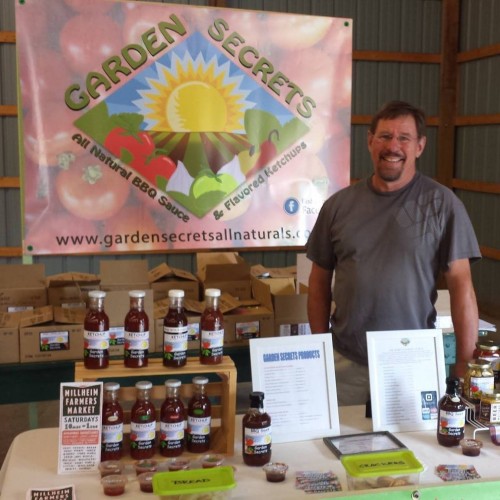 Ketchup is one of those things that some people love and some people hate. It's also something that people think they know based on years of limited options. To many people, ketchup (or catsup, but for the record we're going with ketchup) is either Hunt's, Heinz, or store brand.
However, a Millheim entrepreneur has products that will change your concept of ketchup, and maybe even convert some ketchup haters. Linn Auman runs Garden Secrets, a maker of fantastic sauces that include chili sauce, mustards, pepper relish, barbecue sauce, and of course, homemade ketchup.
Linn got started in the ketchup business in a pretty indirect way. He has a background in civil engineering, but in 2008 during the economic downturn he found himself out of a job. He used the free time to start a worm farm. Also, since he had been gardening and making homemade canned goods since he was a child, he started making a lot of ketchup and barbecue sauce, sharing it with friends and neighbors. One of his neighbors was so impressed with his homemade stuff he made a suggestion to Linn—start selling it.
"I laughed at him, but he said I think you should start a business, it's that good," Linn said.
His ketchup making started around 30 years ago as a hobby, Linn said. A friend gave him a recipe for ketchup that included cloves, which he didn't care for due to an aversion to them. However, he began tinkering with the basic recipe and finally came up with a recipe he liked.
Today, Linn offers a variety of ketchups, including regular, bourbon, hickory, spicy, Italian, balsamic, garlic/onion, and Cherokee port. They are certainly different than store brand, and have a bold, delicious flavor. Besides the taste, Linn said that the best thing about his ketchups is how they are made, and that starts with the tomatoes. "I grow my own tomatoes. I know where they come from, they're grown organically without sprays or chemicals," he said. "I am a firm believer in vermiculture, I start all my tomatoes in the worm compost and every 30 days I make a worm tea, injecting it into the ground. That strengthens the roots and gives the vegetables a better flavor."
Speaking of better flavor, a popular ketchup is one of his seasonal offerings, Cherokee Port. The ketchup is made with Cherokee Purple tomatoes, an heirloom variety that is unusual looking but very flavorful. "There is nothing in this world like Cherokee Purples," he said. "Along with the tomatoes, the Cherokee Port ketchup also includes imported Italian red wine vinegar and a port wine."
In addition to his amazing ketchups and other products, Linn said he is adding a few items to his line. "Through the years I get asked about salsa but I didn't make it," Linn said. "However I got a great recipe that requires peppers that are grown only in New Mexico and Colorado. It's an authentic Mexican recipe, so as soon as I can get peppers that I know are grown organically or all natural, I will start making different salsas. If I can't get them then I will grow my own and hopefully by July or August I will have peppers to make salsa."
A list of his products can be found on Garden Secrets Facebook page. You can find out where to buy Garden Secrets products here.
Author: Jamie Oberdick
Bio: Editor, Local Food Journey | Passionate about supporting local food in Central PA