Posted by Jamie Oberdick on 01/14, 2015 at 05:44 PM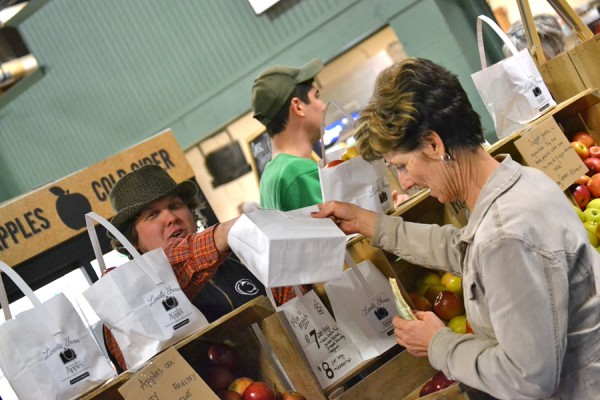 One of the reasons to head down to the Pennsylvania Farm Show is the food. A lot of it is from Pennsylvania sources, so it's more or less a locavore's dream: a food court full of local food.
There's a main food court in the Weis Exposition Hall and an additional food court in the Main Exposition Hall. Both of them have a rather charming town square motive. But what to get?
Well, there's plenty of choices, and no matter if you are a carnivore, a vegan, or a picky five-year-old, everyone can find something to nosh on. My personal favorites include milk shakes that are ALMOST as good as the Creamery's; maple sundaes made with real maple syrup from the Pennsylvania Maple Syrup Producers Council; an excellent mushroom soup made by the Pennsylvania Mushroom Growers Cooperative; and for those looking for something very healthy, a broccoli-cauliflower salad from the Pennsylvania Vegetable Growers Association. Not only are these things tasty, the money raised by sales of the food items go to good causes.
Here's the full list of all the amazing selections:
• Pennsylvania State Beekeepers Association with honey, honey ice cream, honey waffles and beehive products.
• Pennsylvania Cooperative Potato Growers Inc. with baked potatoes, baked sweet potatoes, French fries and potato doughnuts.
• Pennsylvania Dairymen's Association with milkshakes, deep fried mozzarella cubes, toasted cheese sandwiches, milk, ice cream sundaes and ice cream cones.
• Pennsylvania Livestock Association with roast beef sandwiches, ham and cheese sandwiches, beef meatball sandwiches, pork barbecue sandwiches, lamb stew, hot dogs, beef sausage, Italian sausage, steak salad, ham salad, horseradish and pink lemonade. Beef brisket sandwiches and subs will be for sale at the association's booth in the Main Exposition Hall.
• Pennsylvania Maple Syrup Producers Council with maple syrup, maple sugar, maple candy, maple sundaes, maple yogurt, maple cotton candy, maple-coated nuts, maple cream sugar and cookbooks.
• Pennsylvania Mushroom Growers Cooperative with fried mushrooms, fresh mushrooms, grilled portabella sandwiches, mushroom soup, mushroom salad and schroomies.
• Pennsylvania Vegetable Growers Association with vegetable soup, chicken corn soup, broccoli soup, vegetable wraps, blooming onions, bean salad, chili, broccoli-cauliflower salad, fried vegetables, fried dill pickles, carrots and celery, tomato juice, strawberry slush drink, berry pie, pumpkin pie and chocolate-dipped strawberries.
• Penn Ag Industries Association and its Poultry Council, Aquaculture Council and Swine Council with chicken nuggets, chicken breast sandwiches, hot dogs, turkey barbecue, wings, bucket of chicken, chicken cheese steak, seasoned slow-roasted rotisserie sliced chicken, chicken soup, deviled eggs, red beet eggs, mustard eggs, chicken parmesan sandwich, turkey meatball sandwich, pork nachos, chicken nachos, chicken chili, fish sandwich, trout chowder, tortilla-crusted tilapia, bagels, sticky buns, shoofly pie, whoopee pies, cookies, cinnamon buns, breakfast sandwiches and slow-roasted pulled pork.
• State Horticultural Association with apples, apple dumplings with ice cream, apple cider, apple butter, cider floats, dried apples, caramel apples, cider slushies and apple or peach sundaes.
• Pennsylvania FFA Foundation – hot dogs, rib sandwiches, deep fried mozzarella cubes, apple cider, apples and pizza.
• Pennsylvania Cattlemen's Association with Philadelphia cheese steak sandwiches, beef barbecue sandwiches, rib eye steak sandwiches, beef hot dogs, steak, egg and cheese sandwiches, beef sticks, peach tea, apple cider, milk and honey dumplings.
Author: Jamie Oberdick
Bio: Editor, Local Food Journey | Passionate about supporting local food in Central PA