Posted by Christina and Erin on 04/27, 2011 at 05:55 PM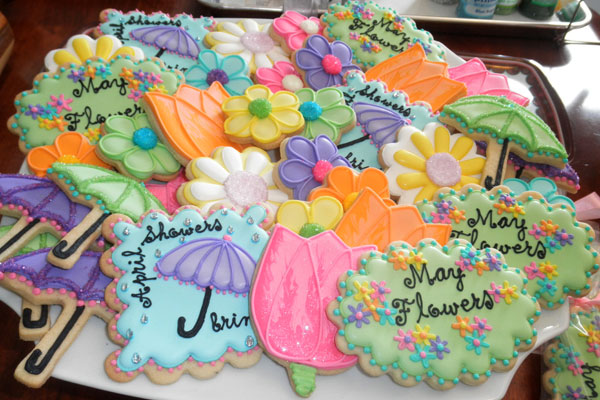 Want to add a personal touch to an upcoming wedding reception or baby shower? Searching for a dessert to serve at your next holiday party? Or just looking for a tasty treat for a special someone? Anne Yorks of Flour Box Bakery has hand-iced sugar cookies for every occasion.
Anne Yorks was comfortable in the kitchen at an early age. Throughout her childhood, she was in charge of baking cookies for holidays and family gatherings. And after graduating from Penn State and becoming pregnant in 2007, she started baking cookies for customers out of her Bellefonte home.
One of Anne's first tasks was to find a suitable name for her new bakery. Her first choice, "Taste of Heaven," wasn't available, so she decided on Flour Box Bakery because of her love for flowers. That love was evident from the moment we walked into her kitchen.
Colorful flower paintings adorn the walls of Anne's home, and her kitchen is very bright and inviting. We immediately noticed a huge platter sitting on her kitchen table filled with spring cookies and individually wrapped cookies made especially for us. We wasted no time eating our cookies; they were not just beautiful, but delicious, too!
Although it's not a commercial kitchen, all of Anne's baking tools are organized and separated from her traditional home kitchen. For example, above the kitchen cabinets, she has bins and baskets filled with dozens of cookie cutters. Anne says she buys new cookie cutters whenever she feels inspired, and they range in price from $1 to $15. Whether she finds them online or while strolling through Michaels craft store, she is always happy to add more cookie cutters to her collection.
All of Anne's cookies are made from scratch using simple ingredients – flour, sugar, butter, eggs, vanilla, and a pinch of salt – and are hand-rolled and hand-decorated. At this time, she only bakes sugar cookies because they are flat and provide an easy canvas for decorating. With delicate, steady hands, Anne transforms balls of dough into works of art. But how does she get each cookie to look so flawless? She says she uses a stencil. She first sketches her design, and then she uses it to make each cookie look as perfect as possible.
We were privileged enough to watch Anne decorate some of her unique cookies. Each cookie has several layers of frosting. But before she can add a new layer of frosting, she has to wait for the previous layer to completely dry. This process can take up to eight hours per set of cookies. Generally, it takes about two days for Anne to complete an order. She says she has shipped her cookies to almost every state in the U.S. and even as far as Spain and Australia!
Anne has transformed cookies into everything from flowers, hearts, and animals to Star Wars and Tax Day cookies. She finds some of her ideas and inspiration from greeting cards and designs on her daughters t-shirts and clothing. One of her most memorable orders came from the Centre County Democrats. She created cookies with President Obama's face and the Horizon O when the President came to Penn State in February.
This stay-at-home mom offers hundreds of different cookies and accepts requests for custom decorations. Anne believes fulfilling a special order requires a lot of creativity and patience. She feels these traits set her business apart from others.
But what seems to be the most rewarding part of Anne's day is the recognition she receives from her customers. She says many customers send cards thanking her for their order and telling her how delicious the cookies are. In fact, Anne has made many new friends through Flour Box Bakery.

Check out Anne and Flour Box Bakery's website for more photos and to order online!
Author: Christina and Erin
Bio: Christina Barkanic is a senior at Penn State majoring in broadcast journalism and minoring in sociology. She has a passion for journalism, the outdoors, good food, and good company. Ideally, she would like to combine all four by producing her own nature meets organic cooking show one day. Erin Donahue is a senior at Penn State majoring in broadcast journalism with a minor in sociology. She's excited to share her passion for food, writing, and multimedia.