Posted by Jamie Oberdick on 05/07, 2014 at 11:29 AM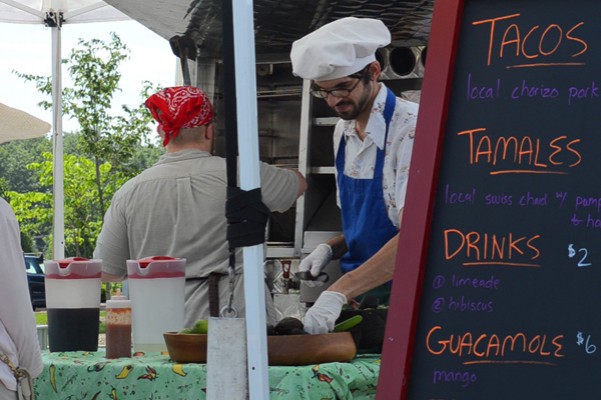 While we are most certainly not Philadelphia or Pittsburgh, we here in Central Pennsylvania are not living in a good-food black hole. We have some excellent restaurants and other vendors of prepared meals/snacks using local food ingredients in our area. You can find local food in fine dining establishments, taverns, diners, festivals, and, of course, farmers markets. Here are five great local food items that we think you must try:
- Big Basil BLT, Way Fruit Farm: Taking the traditional BLT of bacon, lettuce, tomato, and mayo on white bread and tweaking the model, Way Fruit Farm offers the Big Basil BLT. The sandwich features lettuce, tomato, Hog's Galore bacon, basil pesto, mayo on house-baked multi-grain bread. It will make you realize that pesto and bacon are a pretty formidable flavor combination.
- Wild Mushroom & Chevre Pappardelle, Harrison's Wine Grill: Regular readers of this blog know that the founders of Harrison's, Kit Henshaw and Chef Harrison Schailey, were pioneers in the concept of restaurant food served with fresh local ingredients. There are many items to choose from made with ingredients from many local sources, but if you are a pasta lover, the Wild Mushroom & Chevre Pappardelle is a go-to dish on their menu. Pasta from Fasta & Ravioli Co., Pennsylvania-grown mushrooms, fresh herbs, and chevre from Three Belle Farm Cheese are combined to make a fantastic dish that is both rustic and fine dining at the same time.
- Burritos and tamales, El Gringo Taco Truck: Ben Stanley's food truck has grown a fervent following among local foodies who queue up for his local twist on Mexican food. He offers different tacos, tamales, salads, salsas, and unique beverages, including a delicious concoction made from roselle, which is a type of hibiscus that tastes like cranberry juice. There's a different offering just about every day, and you can't really go wrong with your choices here. Some favorites include swiss chard with pumpkin seed and hard-boiled egg tamales, mixed mushroom and queso fresco tacos, and jicama with grapefruit and avocado salad.
- Elk Creek Burger, Elk Creek Cafe + Aleworks: Central Pennsylvania has its share of great burger places, and Elk Creek Cafe + Aleworks offers a fine example of the classic cheeseburger. Local beef with local lettuce, onion, and tomato on a house made bun is grilled to order. You can get it with fresh-cut fries or a house salad, and be sure to top it with cheese from Stone Meadow Farm.
- Pastry case, Gemelli's Bakery: Gemelli's bread is legendary among lovers of good things in Central PA, but it's well worth checking out their sweet things. Chocolate raspberry tortes, cannolis, tiramisu, peanut butter cookies, and more are among the best desserts in Central PA. If you need to bring a dessert for a dinner party, Gemelli's got you covered.
Author: Jamie Oberdick
Bio: Editor, Local Food Journey | Passionate about supporting local food in Central PA