Posted by Jamie Oberdick on 03/10, 2014 at 01:01 PM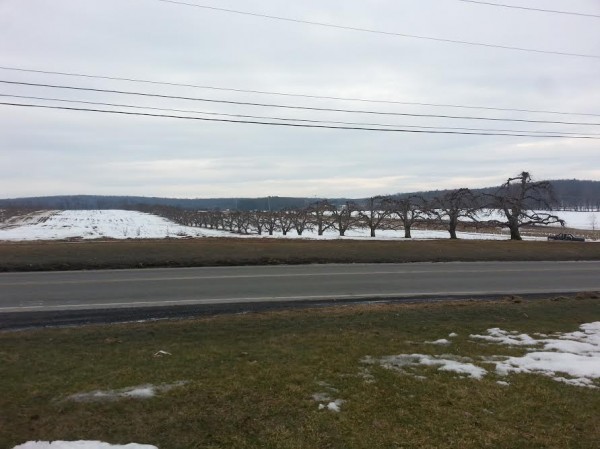 March is often a tease to those of us weary of winter's cold, snow, and ice. One day we may have pleasant mild weather, the next, biting wind and snow.
But really, we're entering the end-of-life phase for Old Man Winter. As the glacier that was covering Central PA continues to shrink, and mild days become more frequent, the harbingers of spring become more frequent. Here are five signs of spring, local food style:
- Any root vegetable you've left in the garden shows signs of life: Whether it's carrots, parsnips, or onions, the first non-weed sign of life in your garden just may be a stray veggie that you missed during last year's harvest. Since many root vegetables are biennials, once the soil temperature warms a bit, they will start to release green leaves. They usually become too woody or mushy to eat at this point, so you can either pull them out or let them grow and flower for seed saving (some root vegetable flowers are quite attractive).
- Tait Farm's March recipes of the month: Tait Farm's recipes of the month are fantastic for ideas on what to do with their fresh produce and excellent prepared foods like shrubs and relishes. This month, it's all about spring recipes, featuring spring vegetables like rhubarb and spinach.
- Slow shift in what's available at farmers markets: At any one of our area's winter farmers markets, you can still find local produce such as apples, potatoes, etc…all fruits and vegetables that can store well. But soon these will be joined by an ever-growing variety of greens, rhubarb, and asparagus.
- Dates are announced for outdoor farmers markets: Soon, you will notice signs and/or emails that announce the opening of outdoor farmers markets for the 2014 season. A few examples I've seen include Boalsburg Farmes Market on May 6, and North Atherton Farmers Market on May 10.
- Restaurants that serve local food change their menus: Just like you change out your winter coat for your spring jacket, so do local food restaurants like Harrison's Wine Grill, Elk Creek Cafe + Aleworks, and Otto's Pub and Brewery change out their menus as the days grow longer and warmer. You start to see less wintry things like stews and more lighter spring fare like salads and asparagus dishes.
Author: Jamie Oberdick
Bio: Editor, Local Food Journey | Passionate about supporting local food in Central PA