Posted by Jamie Oberdick on 12/12, 2011 at 06:57 PM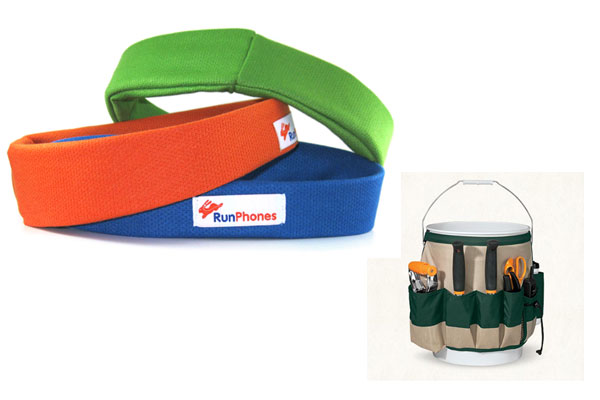 Looking to buy a holiday gift for that special gardener in your life? Here are five great suggestions:
Gift certificates or gift cards to their favorite seed vendor: Many gardeners have a go-to source for seeds. It could be an old standby like Burpee, or one of the newer online seed outlets like Heirloom Acres. A lot of these companies offer certificates or cards for purchasing seeds and other garden supplies—get this as a gift, you take the first step in planning someone's 2012 garden.
Leatherman multi-tools: The tool company Leatherman makes these top-quality multi-tools, including those who work well for gardeners. These tools are like a Swiss army knife for a gardener, and include things like scissors for clipping herbs or flowers, a mini-saw for cutting branches, and even a bottle opener for a nice cold one while gardening. They are quite rugged and can take a fair amount of punishment (I know, I use mine constantly).
RunPhones for music while gardening: This one is a bit unusual. Made right here in central PA in Bellefonte, RunPhones were originally made for exercise like running, but work great for exercise like gardening! Runphones have ultra-thin speakers inside a headband (the summer version, best for gardening, has a mesh headband that wicks away sweat). Just set your garden playlist on your mp3 player, and you're set. If you have a small mp3 player like an iPod Shuffle, you can tuck the wires and the player in the band to get wires out of your way. The speakers are removable so you can throw the headband in the washer.
Gardening books: Many of the same sources that sell things like seeds also sell gardening books, plus there is also Amazon. There are a wide variety of books out there, but one book that has been getting good initial reviews is the Heirloom Life Gardener. Baker Creek Heirloom Seeds sells the book on their web site. The book costs just $29.95, and they even throw in a subscription to their heirloom gardening magazine.
Garden Bucket Caddy: No, not a person who follows a gardener around carrying his garden stuff, but instead a clever little device that fits over a five-gallon bucket. The Garden Caddy is made of canvas and has multiple pouches. When you put it over a bucket, the pouches are on the outside of the bucket, where you can insert seeds, tools, gloves, a cellphone, a garden notebook, beverages, whatever you can fit in the pouches.
Author: Jamie Oberdick
Bio: Editor, Local Food Journey | Passionate about supporting local food in Central PA