Posted by Jamie Oberdick on 12/16, 2015 at 02:52 PM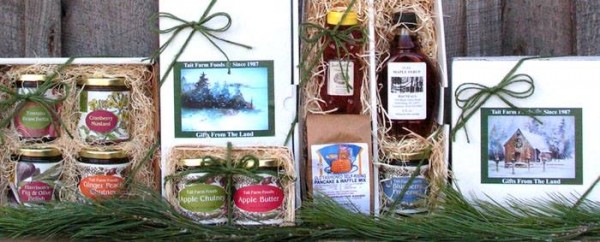 Uh-oh…up against it for Christmas shopping this year? Don't panic. Everybody loves good food and drink, right? And we have plenty of options produced right here Central Pennsylvania. Here's five great gift local food ideas for the last minute shopper.
- Tait Farm Four Jar Collections: Tait Farm Foods has a lot of fantastic in-house-made products, so many it can be tough to choose from. However, Tait Farm has several "Four Jar Collections" of various delicious spreads and sauces, including combinations of sweet, savory, and both.
- Red Hawk Premium Peppers: Got a friend or relative who can't get enough of the spice? Then visit Red Hawk Premium Peppers this Friday at the State College Winter Farmers Market from 11:30 a.m. - 5:00 p.m. in the State College Borough Building. Red Hawk offers a variety of hot sauces, spreads, and rubs that bring the hotness.
- Friends & Farmers Cooperative Gift Membership: This is a fantastic combination of the "gift donation" and an actual gift. By giving a gift membership to Friends & Farmers, you're supporting local food producers and a great community organization, plus all the great benefits of being a co-op member, such as the online market discounts, access to a variety of great local food events, discounts at area businesses, and much more.
- Gift card or certificate to a local food restaurant: There's a growing list of restaurants that serve local food; and you're probably aware of them by now. So many of them are first-rate, and offer gift cards or certificates.
- Wine from central Pennsylvania: We are blessed with a good number of fine wineries in Central Pennsylvania. A few examples are Oak Springs Winery near Altoona, Starr Hill Winery in Curwensville, and Brookmere Winery in Belleville. A bottle or two of wine from any of these wineries make for a very nice gift, and many of these wineries offer gift packages.
Author: Jamie Oberdick
Bio: Editor, Local Food Journey | Passionate about supporting local food in Central PA