Posted by Jamie Oberdick on 05/08, 2013 at 05:04 PM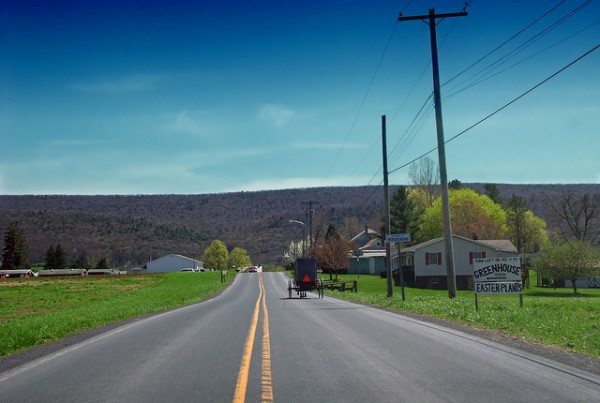 I grew up in York, PA, which is part of what is considered the most famous of our state's "Pennsylvania Dutch" country. While York doesn't attract the throngs of tourists that Lancaster does, Pennsylvania Dutch cooking has had a big influence on the area's local eating. Because of this, I consider myself a bit of a Pennsylvania Dutch food "purist"—for example, I know that if a book has a recipe for "Pennsylvania Dutch pot pie" and it includes a crust, then it's not an authentic recipe. So, I was quite thrilled to stumble upon an NPR blog post about a new book by a Pennsylvania Dutch food expert, William Woys Weaver.
How this ties into our local food scene: while the Pennsylvania Dutch originally settled into southcentral and southeastern Pennsylvania when they arrived in America in the 18th Century, they have since settled in Central Pennsylvania. A community exists near Zion, and there's a large Amish community in nearby Mifflin County. One other note; Amish and Pennsylvania Dutch are not synonyms, something that Woy points out. Amish are considered Anabaptists, and among the Pennsylvania Dutch that settled in the state that also include Lutheran, Reformed, and Catholics. They also speak a specific dialect, which ties them all together, along with their unique culture.
I have not read Mr. Woy's book as yet, but I found the blog post to strike a chord with me. He is the director of the new Keystone Center for the Study of Regional Foods and Food Tourism, and has established quite a reputation as a food historian. Some of the points brought up in the blog rang true to me based on my experience:
- The Lancaster tourist traps sell stuff that is labeled indigenous PA Dutch food but really isn't: Whoopies pies, as tasty as they are, do not count as classic PA Dutch cuisine. However, schnitz-un-gnepp, which includes dried apples (you can find apple schnitz at Way Fruit Farm), ham and dumplings, is a classic dish and something I remember having as a child.
- They are not "Dutch" or have anything to do with Holland: while some touristy places actually have Holland-esque windmills as a symbol of PA Dutch, they are not true Dutch. Most likely, the name PA Dutch comes from a misunderstanding of "Deutsch", which is German for, well, German.
- Some of the authentic food would likely, um, horrify people who are not used to it: There is a lovely PA Dutch dish that is simply delicious, something that everyone I know who has tried it has found to be tasty—hog maw. What's hog maw? Well, it's the lining of a pig stomach, stuffed with any combination of sausage, ground beef, potatoes, celery, cabbage, onions, herbs, and carrots. There's as many versions as there are grandmothers in my hometown area. But seriously, it's delicious. Really. One thing I always find amusing—look up "hog maw recipe" on Google and you will see, quite often, something in the description that basically says "while this sounds disgusting it's really quite good."
Are there any "authentic" Pennsylvania Dutch foods to be found in Happy Valley? I've seen true pot pie here, and some other things like chow chow. If you want to try some good recipes and bring PA Dutch cuisine into your kitchen, they can be found here, or buy Mr. Woy's book.
Author: Jamie Oberdick
Bio: Editor, Local Food Journey | Passionate about supporting local food in Central PA