Posted by Jamie Oberdick on 11/21, 2014 at 03:14 PM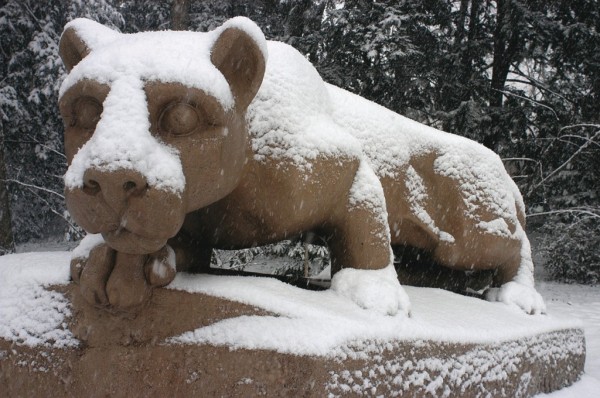 If the brutal cold this week hasn't got its point across that winter is more or less here, the fact that two outdoor farmers markets having their final day today and tomorrow is the final bit of proof. Soon our stone-faced friend in the picture above will get his winter coat of snow.
Today, the outdoor Downtown State College Farmers Market on Locust Lane closes the season on a chilly note. That market runs today from 11:30 a.m. until 5:30 p.m. Then tomorrow, the Bellefonte Farmers Market will be open from 8:00 a.m. to noon.
At the Bellefonte market, Good Seed Baking Co. will offer some gluten-free baked goods. If you want some healthy lean meat, ABB Bison offers fresh and healthy bison meat.
While the OUTDOOR farmers markets will soon be done for the year, that doesn't mean farmers markets are done. Not at all, as there are several indoor farmers markets, including:
- The Winter Downtown State College Farmers Market will set up shot starting Dec. 5 in the State College Municipal Building and will run every Friday from 11:30 a.m. - 5:00 p.m.
- The Boalsburg Farmers Market moves indoors to the St. John's United Church of Christ on Church Street in Boalsburg, at the same time: Tuesdays from 2:00 p.m. to 6:00 p.m.
- The Millheim Indoor Farmers Market is held Saturday from 10:00 a.m. to 1:00 p.m. at the Bremen Town Ballroom, 105 E. Main St, downtown Millheim.
So, what can you find in these places during the winter? All sorts of things, including raw milk, goat milk, cheeses, meats, crafts, winter veggies such as carrots and parsnips, greens, and more. Plus, with the holidays coming up, there some wonderful gifts to be found.
Author: Jamie Oberdick
Bio: Editor, Local Food Journey | Passionate about supporting local food in Central PA