Posted by Kim Tait on 02/17, 2012 at 11:59 PM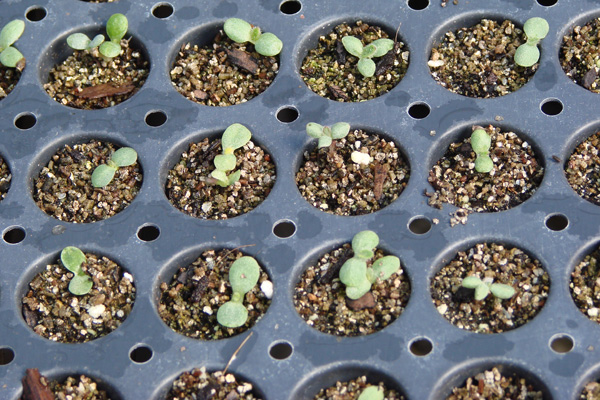 The mild February temperatures are allowing things to roll along pretty smoothly these days. We have made great progress on the new high tunnel and should have the ends completed, the roll-up sides installed and the plastic cover on within a couple weeks. Once this is complete, we will lay in compost and seed an early spring greens mix, which we plan to be eating come April!
Other important news is that we turned the compost wind rows and covered them in fleeces. What a beautiful sight it is to see the rich brown piles of transformed earth just waiting for the right moment to be spread on the fields and in high tunnels. Compost is such an amazing substance, it helps improve the fertility of the soil, balance the nutrients and add the ever important microbes. And all that from a bunch of leaves and kitchen vegetable scraps!
We also started seeding early vegetables in the greenhouse for the fields, as well as started seedlings to sell at the shop greenhouse beginning mid-March. It is thrilling to see the benches lining up with the first flats of organic kale, scallions and bok choy, as well as gourmet lettuce mix, spinach, cress and much more. These mild days have even allowed us to have the doors open while we work, which is unheard of this time of year. And while we feel bad for the ski mountain, for us farmers, this is a February dream come true! But then again, we need to continually pinch ourselves and say, it is still early and anything can happen – but let's hope it doesn't!
Author: Kim Tait
Bio: Co-Founder, Tait Farm Foods and Community Harvest CSA