Posted by Emily Wiley on 04/15, 2011 at 06:01 PM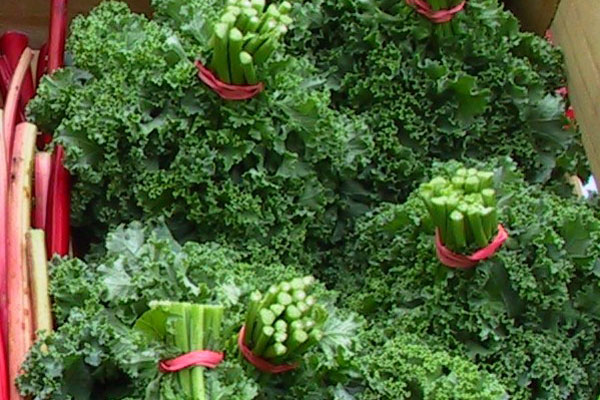 Erin McKinney is one of two full-time farmers at Tait Farm in Centre Hall who oversees the fieldwork for the Community Supported Agriculture (CSA) program, Community Harvest. Find out from Erin what is "growing on" in the fields at Tait Farm this week.
"This spring has really challenged us growers with wind, precipitation, and cold temperatures being common in the daily forecast. We set out our earliest transplants of kales and collards, and these incredibly hardy spring risers have taken the weather with a grain of salt. Although they may not seem to be growing much, below the soil their root systems are already settling in. Once the warm weather hits and stays, these two brave crops will be the first to offer their delicious bounty of tender spring greens. Following them will be spinach, mustards, raab, and much more.
So although the weather hasn't been favorable at the moment, it's worth trudging through the cold, wet days for an early harvest!"
Try this delicious seasonal side dish recipe from Tait Farm's other resident farmer, Steve Spanelli.
Spring Greens Sauté with Roasted Garlic from Steve Spanelli
6 cloves of garlic (or to taste)
3 Tbsp Tait Farm Olive and Basil Oil
1 lb spring greens, washed and chopped (spinach, kale, collards, raab, mustard greens)
salt and pepper
Preheat the oven to 400 degrees F.
Peel the garlic cloves, but do not crush them. Place them on foil and coat with half of the oil. Seal the foil and roast for about 20 minutes, or until soft.
Place the rest of the oil in a large pan and heat over medium-high. Add the spring greens and the roasted garlic including the garlic oil. Season and sauté until wilted.
Community Harvest CSA Memberships are still available for the 2011 season. To learn more about Community Harvest visit the Tait Farm Foods website. Or to subscribe to Tait Farm's e-letter, "Good Earth," send an email to .(JavaScript must be enabled to view this email address).
Read Erin's Field Notes.
Author: Emily Wiley
Bio: WPSU Multimedia Producer | Wife and Mother | Lover of Food and Photography | One-Half of The Culinary Couple