Posted by Erin McKinney on 05/12, 2011 at 07:07 PM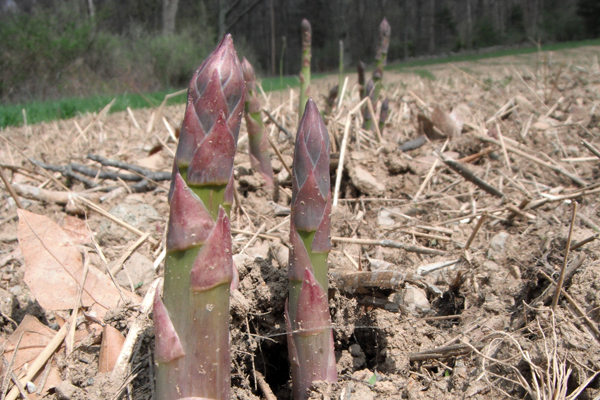 There are two times during the asparagus season that I enjoy picking it: the first time and the last time. Don't get me wrong; I love asparagus in every way, shape, and form on my dinner plate, but the tedious task of picking it twice a day can make a person jump for joy at the end of its season.
Asparagus is always the star of the spring season. It's a perfect addition to just about any meal, which makes it a real treat. Since we are picking it fresh every day, our CSA members are truly getting it at its most flavorful and nutrient packed state.
On another note, the greens coming from the high tunnel are just so gorgeous right now. They are actually loving this weather since there isn't much hot sun beating down on them, making it too hot in their high tunnel. I can't wait to grate a beet over some salad with some Tait Farm Foods ginger vinaigrette! (Can you tell that the harder we work the hungrier we get?)
Vegan Hollandaise Sauce with Asparagus from Steve Spanelli
1/2 cup silken tofu
2 tablespoons lemon juice
1 tablespoon nutritional yeast
1/2 teaspoon salt
1/8 teaspoon cayenne pepper
1/8 teaspoon turmeric
2 tablespoons corn oil
2 lb asparagus, trimmed
Heat tofu on a plate in the microwave for 45 seconds. Transfer to a food processor, and purée until smooth.
Add lemon juice, nutritional yeast, salt, cayenne, and turmeric; pulse until well combined.
With food processor still running, add oil in a steady stream to finish sauce.
Steam asparagus until just crisp-tender. Top with sauce and serve.
Read Erin's previous Field Notes.
Author: Erin McKinney
Bio: Tait Farm Farmer | Community Harvest CSA | Lover of Food and Farming | Author of Field Notes, Community News, and Good Earth e-publication for Tait Farm