Posted by Kim Tait on 05/17, 2012 at 11:43 AM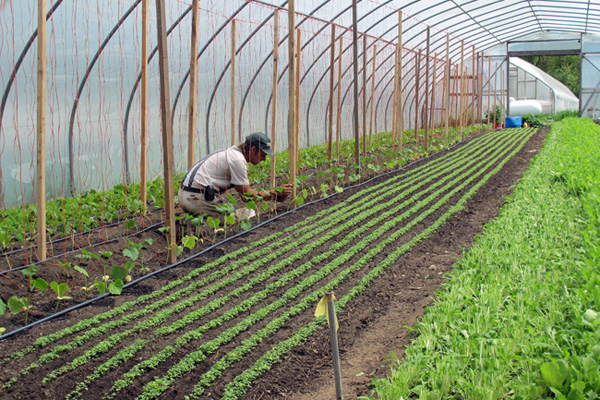 Farming is hardly ever a perfect world. It is often too wet or dry, too hot or cold—but then every once in a while along comes the perfect day.
Last week we had several perfect days and were able to get lots of outdoor work done. Adam got the spring cover crops tilled in over the weekend, but the rain arrived about 24 hours too early, putting a halt to laying up beds for outdoor tomatoes, peppers and eggplant. But we are hoping to get these planted by the end of the week.
The high tunnels are all planted and brimming with early tomatoes, peppers, eggplant, summer squashes, basil and cucumbers. They look beautiful and we anticipate a bounty of vegetables beginning sometime in June.
The mesclun mix continues to be bountiful and delicious, the asparagus is growing good and the kales, chard, and spinach are sizing up nicely. But after all it is spring, so it is time to eat greens!
Enjoy your salad greens with this unique dressing made with Tait Farm Foods Mango Chutney. It is an easy way to dress up your salads all spring and summer. Another option is to toss mesclun mix with cubed avocado and fresh mango chunks. Bon AppeTait!
Mesclun Salad with Mango Chutney Dressing
Mesclun mix
Carrots, shredded or thinly sliced
Radishes, thinly sliced
Dressing
1/4 cup canola oil
2 Tbsp Tait Farm Mango Chutney
Juice and grated rind of 1/2 lime (1 Tbsp lime juice)
1/4 tsp.salt
(makes about 1/2 cup of dressing)
Whisk together the dressing ingredients, allowing some lumps of chutney to remain. Toss the salad ingredients with the dressing. Serve immediately.
Author: Kim Tait
Bio: Co-Founder, Tait Farm Foods and Community Harvest CSA