Posted by Erin McKinney on 11/03, 2011 at 12:29 PM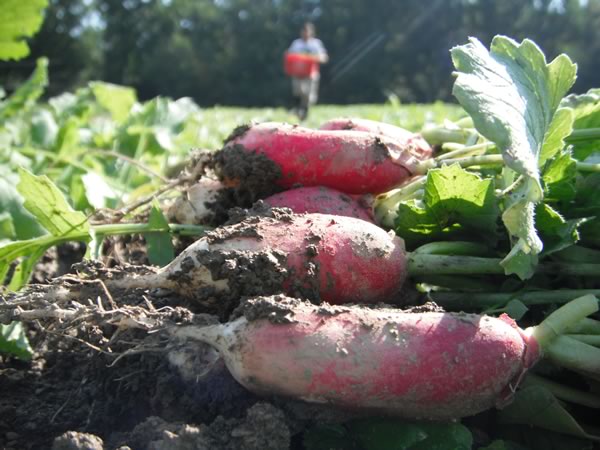 There is an impatient feeling in the chilly, Fall air here in the fields. The heavy, wet snow that came down on Saturday had us curiously waiting to see how all the crops carried the weight.
It seems as though they have handled this storm a little better than in past years when we've seen first snows of the season quickly crush the fall greens that we had spent the previous months carefully tending to. So it was a sweet relief to see most things beginning to stand up straight again after the snow melted and temperatures rose a bit on Monday. This week looks promisingly sunny and fair so anything that may have struggled through the storm will hopefully perk back up.
These frozen mornings definitely put a damper on harvesting though. Specifically the greens more than the root crops. The ground isn't really freezing yet, so while we wait for the leafy crops to thaw in the morning sun, we've been pulling radishes, turnips and other root crops. Stowing some away for the winter Community Harvest CSA shares and the rest going out into distribution now.
We'll be rushing through these fleeting sunny afternoons getting leeks, celeriac, carrots, potatoes and much more out of the ground. The celery is done for the season, but there will be celeriac coming soon. This is the end of the apples so get 'em while you can. The broccoli is looking good and we are getting so excited about that. Also the kales and collards are still thriving, and we'll be back to having them next week.
For now, I'm looking forward to more radishes and turnips to dip in my hummus, tender mustard greens to top my sandwiches with until there comes the day when things begin to stop thawing out altogether and all I'll be craving is a hot bowl of soup.
Author: Erin McKinney
Bio: Tait Farm Farmer | Community Harvest CSA | Lover of Food and Farming | Author of Field Notes, Community News, and Good Earth e-publication for Tait Farm