Posted by Jamie Oberdick on 05/13, 2016 at 02:29 PM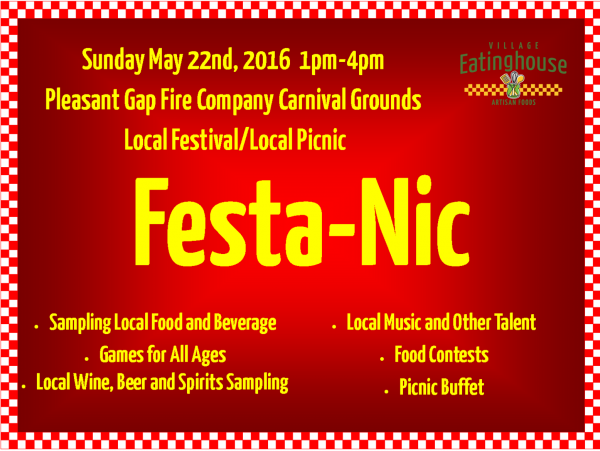 Village Eatinghouse, a local producer of Artisan Kitchen Sauces, hosts the 1st Annual Festa-Nic, showcasing the wide variety of local food and beverage producers, supportive businesses and organizations in Central Pa. Proceeds will benefit Friends & Farmers Cooperative, an organization promoting the production and consumption of locally grown and produced food.
Your $10 admission fee (kids 10 and under are $5) gets you a locally sourced picnic, tastings from participating local producers (no charge for beer, wine and spirits sampling), seminars from community organizations and businesses, backyard games, live music from local musicians, raffle and door prizes, and opportunities to connect with people and organizations supporting local. Many of these producers will also offer their products for sale at the event.
Friends & Farmers members who own food-related businesses can set up a booth at the event at no charge. For more info, contact .(JavaScript must be enabled to view this email address).
* Enjoy a locally sourced picnic prepared with ingredients from locally owned suppliers and restaurants.
* Learn about your community and ways to enhance your own role in it with seminars every half hour about nutrition, planting, harvesting, local markets and activities and more.
* Participate in backyard/picnic games like Cornhole and Disc Golf (Ultimate Frisbee) with instructors and tournaments.
* Dance to music from local musicians, who will create a great, festival atmosphere.
* Network and connect with the food organizations, producers and businesses that support this industry, including those in the State College-area, Altoona, Clearfield, Huntingdon, Lewistown, Lewisburg, Lock Haven and Williamsport.
Live, celebrate, and party like a locavore! Whether you routinely seek out products and services close to home, feel good about supporting local, love trying new and tasty samples, enjoy a great day out, want to get the word out about a new local food and beverage offering or simply want a great time with your friends and neighbors, you'll be glad you decided to come.
For more information about the festival, Village Eatinghouse or Friends & Farmers, contact .(JavaScript must be enabled to view this email address) or .(JavaScript must be enabled to view this email address).
Author: Jamie Oberdick
Bio: Editor, Local Food Journey | Passionate about supporting local food in Central PA