Posted by James Gherardi on 09/17, 2010 at 03:06 PM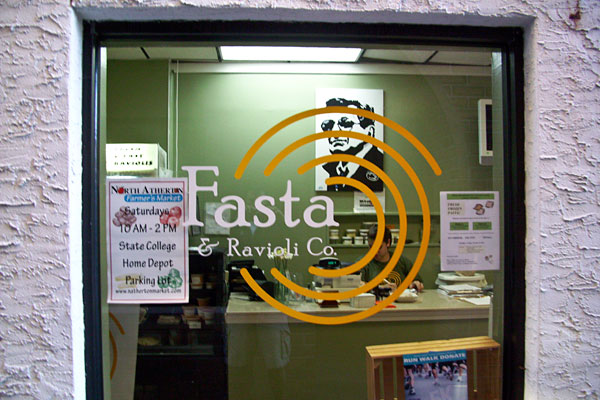 Almost a year ago, Bob Ricketts brought a new business to State College: a fresh ravioli and pasta shop. Today the Penn State alum and owner of Fasta & Ravioli Company caters to a surprisingly large niche market of students and locals. Ricketts offers customers homemade pasta and ravioli and a selection of sauces like tomato, vodka, and pesto. Products are available at the South Fraser Street storefront and at farmers markets and restaurants, as well. "Fast and Fresh" is the mantra here, a motto that Bob lives by. He was eager to share his story with me.
What makes Fasta's pasta different than fresh pastas sold in the supermarket?
Other fresh pastas are MAP, or modified air-packaged, meaning they're shot full of nitrogen to preserve them, and then they're frozen. When supermarkets want to stock the pastas, they take them out of the freezer and put them onto the shelves. Can you really consider something that's been around for 60-90 days to be "fresh?" Our pasta has a shelf life of a couple weeks before we toss it and re-stock. We also offer more flavors than you can find in the store.
What made you want to open a pasta shop?
Why not? I don't know, it started as a class project and evolved into what it is today. I've always had an entrepreneurial spirit. I've always been willing to work ten times harder for myself than for someone else. There was a market niche here after Disalvo's closed, and Fasta fills it.
How's business doing in this economy? Is there a market for fresh pastas in State College?
Business is doing well. I wouldn't say there's a huge market, but there is a viable market. We're in farmers markets, we do business with restaurants, and we have the storefront; there's definitely enough revenue to maintain the business.
Have you ever considered opening a restaurant?
Time will tell…
Do you use any local ingredients?
Yes. We have a cool working relationship with Howard's CSA. He gives me about 5 lbs of basil and a variety of potatoes to use in my products, and I provide his CSA members with pasta and ravioli. I also save my eggshells, and he feeds them back to his chickens. When I need cheese, I head over to Bill at The Cheese Shoppe. That's how I came up with the New Orleans Voodoo and white truffle asparagus ravioli.
How many varieties of pasta do you offer?
Over 60. We have our core products: roasted red pepper, spinach, and whole wheat. But every week, I try to add one or two specialty pastas, like jalapeno pasta or saffron pasta.
What is the most popular variety of pasta and ravioli?
New Orleans Voodoo ravioli has really built a name for itself. I've been out at night with friends and have seen people stop in front of the shop and say, "I hear the Voodoo or something is really good here." As for pasta, our roasted red pepper is very popular.
Have you considered offering other products like cheeses or oils?
There is a rack in the store that says "Fast and Fresh" – we're waiting to fill it with novelty products. We also want to offer at least fifteen different varieties of raviolis in the shop at all times. You don't develop a business over night, though. Rather than loose focus to offer novelty items, I'd rather have a solid group of core products that I can offer constantly.
Which restaurants do you provide to?
Otto's, The Autoport, Spats, Rotelli, The Ale House, Hotel State College, and we've worked with The Red Horse Tavern and Elk Creek. My approach with restaurants isn't your classic business approach. For example, I met with the chefs at the Penn Stater a week ago, and I said, "Here's a list of my products, here are my capabilities, and this is what I can do to improve your menu." Instead of just throwing my cheese ravioli at three different restaurants, I'd rather have a unique type of ravioli at each place.
Which farmers markets can we find Fasta at?
The Tuesday market in State College and the Tuesday market in Boalsburg. And we're an associate at the Friday market in State College. On Saturdays we're at the North Atherton market in the Home Depot parking lot, as well as the Saturday Bellefonte market."
Fasta & Ravioli Company
129 South Fraser Street
State College, PA 16801
(814) 238-1133
Wednesday - Friday: 11am-7pm
Saturday: 11am-6pm
Sunday - Tuesday: Closed
Author: James Gherardi
Bio: James is a senior at Penn State majoring in broadcast journalism. He spent spring 2010 in Rome, and this past summer he worked for the NBC Washington Bureau in Washington, D.C.