Posted by Jamie Oberdick on 07/28, 2017 at 12:28 PM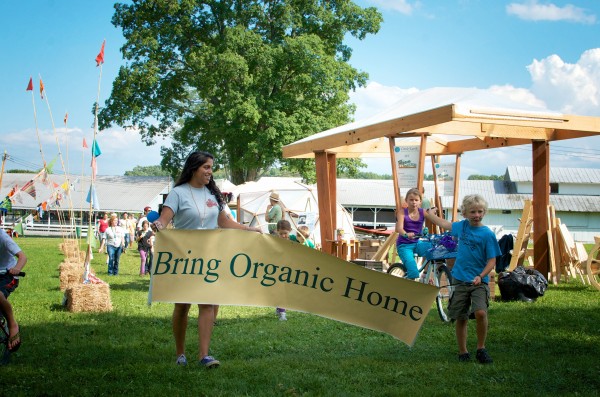 Editor's Note: This is a fantastic event that's perfect for any local food enthusiast. Come learn about local organic farming, enjoy some wonderful local food, and just have some fun…
Visitors to Pennsylvania Organic FarmFest 2017​, the two-day organic agriculture and sustainable living event, will enjoy a full slate of interactive family activities, live entertainment, local, organic food and craft vendors, and speakers, educational workshops and demonstrations at the Centre County Grange Fairgrounds, Centre Hall, PA, July 28-29.
FarmFest is free and runs Friday, July 28, from 9:30 a.m. to 10:30 p.m. and Saturday, July 29, from 9:00 a.m. to 8:00 p.m.
"Today's consumers are especially interested in learning more about where their food comes from," says Leslie Zuck, Executive Director of Pennsylvania Certified Organic, which produces the event. "FarmFest provides that opportunity in a family-friendly environment through fun, interesting demonstrations, workshops, discussions, and hands-on activities. There's also plenty of delicious organic food, of course."
FarmFest 2017 highlights:
● Workshops and Demonstrations
Visitors will enjoy an array of fun and educational expert talks and demonstrations, covering everything from beekeeping, home brewing, hydroponics, vermicomposting, blacksmithing and harnessing, vertical gardening, and pickling and fermentation techniques.
● Founding Farmers Award Ceremony
To celebrate Pennsylvania Certified Organic's 20th anniversary, the organization will be recognizing all of the farmers it certified in its inaugural year. Pennsylvania Secretary of Agriculture Russell Redding ​will present the awards, followed by a free Ice Cream Social.
● Keynote Address

Tom Beddard, ​PCO's founding president and owner of Lady Moon Farms,​ will present "20 Years of Organic Farming: Reflecting on the Past to Create Our Future."
● Homemade & Homegrown Market
Maple products, organic produce, hand-crafted jewelry, organic cosmetics and personal care products are among the locally grown, prepared or produced items by a variety of specialty vendors.
● Organic Food Court
Handcrafted, local and organic foods make up the Food Court, unique to FarmFest and a highlight for hungry visitors.
● Wool Village
Fiber enthusiasts can enjoy a variety of items for sale and demonstrations each day, including knitting, needle felting, and more. Join local knitters and crocheters in the Knitting Circle, under the shade tree just outside the Wool Village entrance.
● Family Arena
Face-painting, farm animals, reptiles and birds, hayrides, games, magic and superheroes will all be part of the Family Arena experience for our youngest guests.
● Live Entertainment
More than 20 performing and musical acts will entertain FarmFest visitors. Everything from Country and Doo-Wop bands to strolling musicians to the best of the region's singer-songwriters. And the belly dancers are back!
● Organic BBQ and Barn Dance
Enjoy locally sourced homemade BBQ and then head to our popular dance event.
● The Browsing Barn
The Browsing Barn provides a relaxing space where visitors can meet an author or read on the couch in the ever-popular Book Nook, taste samples of handmade food products, and peruse the offerings of the Benefit Auction and local artisans. FarmFest 2017's lead sponsors are The Barn at Lemont, EcoVents, Lady Moon Farms, Organic Valley, Pennsylvania Association for Sustainable Agriculture, Pennsylvania Women's Agricultural Network, Perdue, Rodale Institute, and Trickling Springs Creamery.
Author: Jamie Oberdick
Bio: Editor, Local Food Journey | Passionate about supporting local food in Central PA