Posted by Jamie Oberdick on 06/28, 2017 at 02:36 PM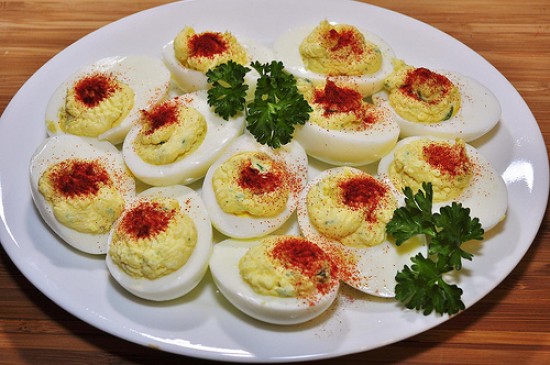 Looking for an easy dish to bring to a July 4th picnic? Deviled eggs are a standard go-to for cookouts, and while many recipes for them are basically the same, deviled eggs leave plenty of room for variations. In my hometown of York, Pa., deviled eggs are topped with Old Bay seasoning instead of paprika. Baltimore folks take that one step further, adding crab meat to the deviled egg mixture.
Our deviled egg recipe is more about land than sea, more specifically, the farm. Local eggs that you can get from farmers markets, etc. are often better than their supermarket cousins. Not just in flavor, but in color, as the deeper yellows and oranges of farm-fresh eggs make for an attractive deviled egg visual. To give an even bigger flavor boost, a few strips of local bacon, chopped fine, is added to give it a smoky kick.
Farm-Style Deviled Eggs
Ingredients
- 12 large local eggs
- 1/4 cup mayonnaise
- 2 strips bacon, fully cooked and finely chopped (Hogs Galore is a great local option)
- 1 tablespoon Dijon mustard
- 1/2 teaspoon pepper
- 1/2 teaspoon hot sauce (optional)
- Smoked paprika
Steps
- Place eggs in a single layer in a large saucepan; add water to cover eggs. Bring to a boil; cover, remove from heat, and let stand 15 minutes.
- Drain and fill pan with cold water. Tap each egg on the counter until cracks form all over the shell, and carefully peel.
- Cut eggs in half lengthwise, and carefully remove yolks. Mash yolks with mayonnaise. Stir in bacon and all ingredients except for paprika, blend well.
- Spoon mixture into eggs, garnish with smoked paprika.
Author: Jamie Oberdick
Bio: Editor, Local Food Journey | Passionate about supporting local food in Central PA