Posted by Jamie Oberdick on 07/02, 2013 at 01:14 PM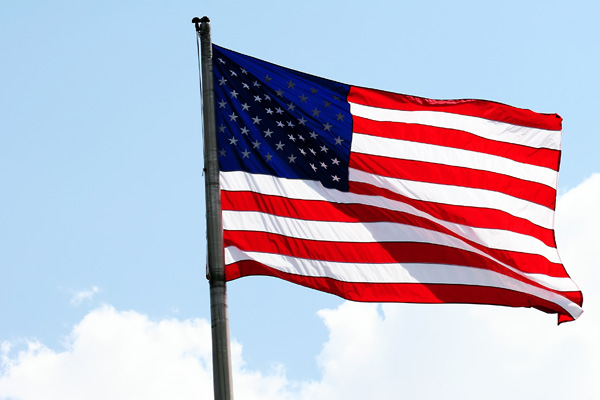 July 4th is a fun time, almost as much of a celebration of our American summer as it is a celebration of our American freedom. As a general rule, the gatherings of friends and family take place outside (weather permitting, of course) and take the form of the cookout/backyard barbeque. I am sure other culture do this, but the American version is unique to us. We play a variety of lawn games like horseshoes, ladder toss, etc., hang out with friends and family, and enjoy a variety of summer foods. This is the time of the year when local food really shines; and I asked a sampling of local food vendors and Local Food Journey vendors to offer some favorite Independence Day recipes that will dazzle backyard diners. In fact, I got so many I decided to do this in two parts. Today, we offer you part one.
Let's start simple with our very own Unpaid Field Hand, Local Food Journey writer James Eisenstein. Don't know how to cook and are under pressure to bring something to the celebration? James has the solution for you—Farmers Market Salsa that enables you to get creative and think outside the salsa box!
"The best salsa is one made with fresh ingredients. You cannot go wrong purchasing roughly 3 cups of greens, tomatoes, squash, radishes, turnips, garlic scapes, fruit and process into salsa chunkiness. Add a touch of olive oil, vinegar, lemon juice, salt and pepper. Enjoy with your favorite chips."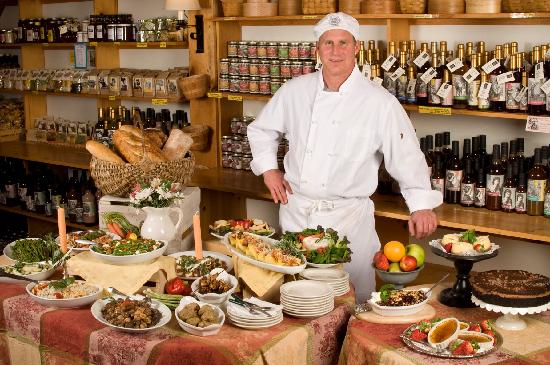 Next, we have a recipe from Harrison Schailey of Harrison's Wine Grill & Catering, a real local food gem here in Central PA. This recipe is also rather simple but a showcase of Harrison's innovation in combining flavors, and having made it myself, I can highly recommend it.
"Twelve years ago, Farmer Mark from Tait Farm had a bumper crop of freshly grown green beans and showed up at our back door with them. Harrison created this recipe for them and officially & deliciously launched our local foods menu.
Fresh Green Beans Gorgonzola
A specialty of Harrison's Wine Grill & Catering
1 pound Fresh Green Beans
½ cup Gorgonzola Cheese – crumbled
1 cup Walnuts – whole
1 cup Rice Wine Vinegar
¼ cup Canola Oil
¼ cup Sugar
1 tsp Salt and Pepper – to taste
§ Blanch the green beans
§ Combine vinegar, oil, salt and pepper and whisk until fully blended
§ Place cool green beans, Gorgonzola crumbles and whole walnuts (which may break apart) in a bowl.
§ Toss with the dressing
Voila! Delicious, colorful, and good for you too!"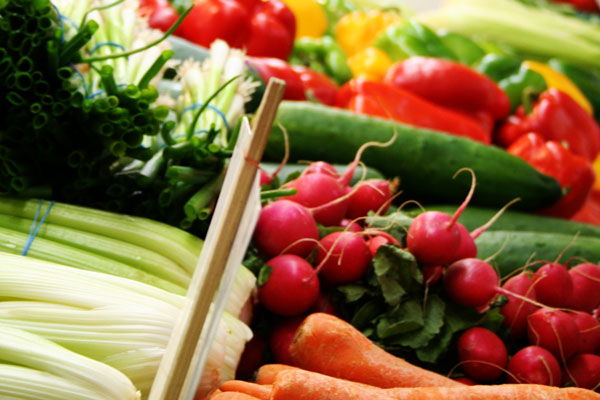 The picture above of farmers market produce may not make you think mac-and-cheese, but Tony Sapia of Gemlli Bakers has a recipe that takes macaroni and cheese from cold season comfort food to summer farmers market cookout eating. Using local cheese, his incredible bread, and local produce, this recipe takes macaroni and cheese to a new level and will be a table star on your July 4th spread.
"Recipe by Tony Sapia with suggestions for ingredient selection
1 pound fresh short pasta (Fasta Pasta), or ½ pound dried short pasta boiled and drained
2 cups whole milk (Clover Creek Creamery)
¼ cup Flour
4 ounces butter
1 cup shredded cheddar cheese (Stone Meadow Farm)
1 cup goat feta cheese (Byler Goat Dairy)
2 cups diced Greens, radishes, onions, bacon, beets, fun farmers market stuff (Jade Family Farm or any market vendor)
¼ loaf of bread (Gemelli Bakers) torn into crouton size pieces and tossed with butter.
Method:
Melt butter in sauce pan and add flour. Cook over low heat for three minutes. Slowly add milk to flour mixture and whisk well between additions. Over super low heat begin to add cheddar cheese to milk. Whisk until melted. Take off heat and fold in farmers market bounty, and feta cheese, and pasta. Place in pan and top with croutons and bake at 400F until golden brown and really gooooooey. Remember, casserole is French for oooooooeygggoooooooeygooooooodness."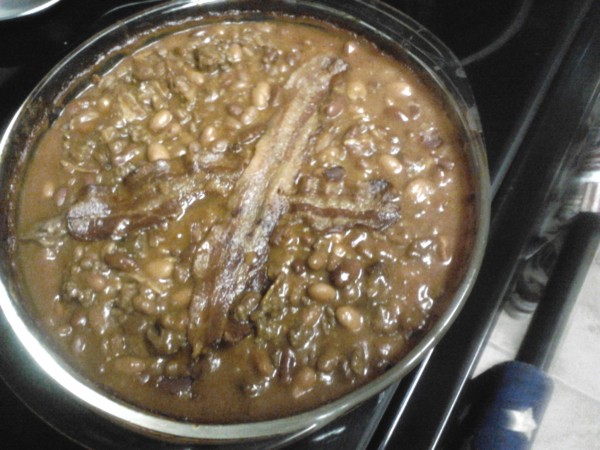 Baked beans are an American cookout staple. There are a lot of recipes out there. Local Food Journey Writer James Schrengost goes west for his baked bean recipe that I bet would go very very well with one of those outstanding jalapeno and cheese hot dogs from Hogs Galore.
"I have been a fan of things from the Old West most of my life. I got this recipe from a chuck wagon cook named Pecos Pete. These are like a hybrid between baked beans and chili, sort of on the sweeter BBQ side.
Pecos Pete Chuck Wagon Beans
1 large onion, finely chopped
1 green pepper diced
½-1 lb. bacon depending on you craving and on what you will nibble before it gets in the pot. Rising Spring Meats in Spring Mills has some very nice thick cut bacon that works great for this.
3 cloves garlic, finely chopped
1 pound ground beef again Rising Spring Meats has some nice grass fed beef call ahead it's in high demand.
3 16-ounce cans pork and beans
1 16 ounce can kidney beans drained
1 16 ounce can pinto beans drained
¾ cup ketchup
½ cup light molasses
¼ cup light-brown sugar
3 tablespoons apple-cider vinegar
3 tablespoons prepared mustard
Dash or two of hot sauce, your favorite brand works fine
Directions
Preheat the oven to 350 degrees F. Cook bacon over medium-high heat. Remove the bacon to a paper towel to drain. Remove all but 2 Tbsps of the bacon grease and toss in the onion, garlic, and bell pepper, sauté until the onion is tender, about 4 or 5 minutes. Add the ground beef, and continue to cook until the meat has browned, about 5-6 minutes more. Remove any excess fat. Stir in the rest of the ingredients . Bring the beans up to a simmer, add crumbled/cut up bacon and then put in the hot oven for 45 minutes, uncovered, until the mixture is bubbly and thick."
Tomorrow we'll more recipes, including some delicious summer cocktails, and more.
Author: Jamie Oberdick
Bio: Editor, Local Food Journey | Passionate about supporting local food in Central PA