Posted by James Sechrengost on 10/21, 2013 at 12:28 PM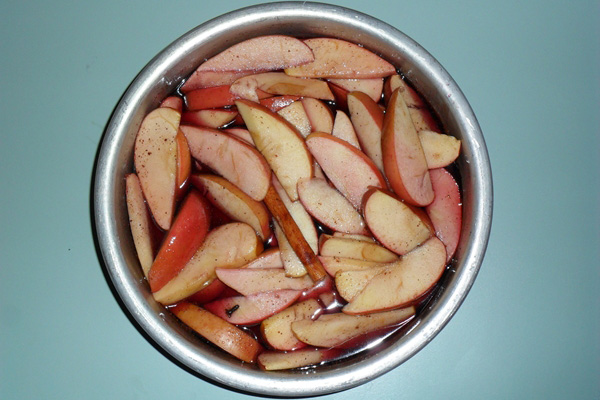 When you live in Southern California you start to miss some of the things from home. The thing I missed the most was the seasons. So-Cal had two seasons Hot and less hot. For the winter season they had some cooler days with occasional rain. So for Spring we had green. For summer it was brown. For fall more brown. Winter was brown and dreary.
Don't get me wrong, you don't have to shovel sunshine, so, I was happy for the most part. I did miss fall though. I love fall with its brilliant colors and cooler temperatures. It also has my favorite holiday, HALLOWEEN! Now I like the things that become available in fall for making pies such as apples, pears, sweet potatoes, and pumpkins. As you can imagine fresh apples were hard to find.
One day a friend of mine and I were talking about food, of course, when she asked me if I had ever been to Yucaipa. The blank look on my face must have told her everything she needed to know. So the next weekend she drove me over to Yucaipa, CA. Now Yucaipa has grown a lot since but back then they had apple orchards and had a fall festival celebrating apples. I was in my glory. Here was a place close by that had not only apples but seasonal leaf changes. For her help in finding this gem of the high desert I made her my Apple Cheesecake. I have included my recipe below but when ever I look at an apple my mind drifts back to that high desert city and it's hidden treasure.
Ingredients

Crust:
1 cup graham cracker crumbs
1/2 cup finely chopped pecans or walnuts
3 tablespoons white sugar
1/2 tsp. ground cinnamon
1/4 cup unsalted butter, melted
Filling:
2 (8 ounce) packages cream cheese, softened
1/2 cup white sugar
2 eggs
1/2 tsp. pure vanilla extract
Topping:
4 cups apples - peeled, cored and thinly sliced (I prefer a combo of Honeycrisp and Granny Smith)
1/3 cup white sugar
1/2 teaspoon ground cinnamon
1/4 cup chopped pecans or walnuts

Steps
Preheat oven to 350 degrees.
In a large bowl, stir together the graham cracker crumbs, 1/2 cup finely chopped pecans/walnuts, 3 tablespoons sugar, 1/2 tsp. cinnamon and melted butter;
Press into the bottom of a 9 inch spring-form pan. Bake in preheated oven for 10 minutes. Allow to cool completely.
In a large bowl, combine cream cheese and 1/2 cup sugar. Mix at medium speed until smooth. Beat in eggs one at a time, mixing well after each addition. Blend in vanilla; pour filling into the baked crust.
In a small bowl, stir together 1/3 cup sugar and 1/2 teaspoon cinnamon. Toss the cinnamon-sugar with the apples to coat. Lay apple mixture in a single layer over cream cheese layer and sprinkle with 1/4 cup chopped pecans/walnuts.
Bake in preheated oven for 60 to 70 minutes.
With a knife, loosen cake from rim of pan. Let cool, then remove the rim of pan.
Chill cake completely in refrigerator covered before serving.
Author: James Sechrengost
Bio: Computer Guru | World Traveler and Foodie Extraordinaire | Member of the Been there Done that Club