Posted by Alexandrea Scott on 03/08, 2016 at 04:27 PM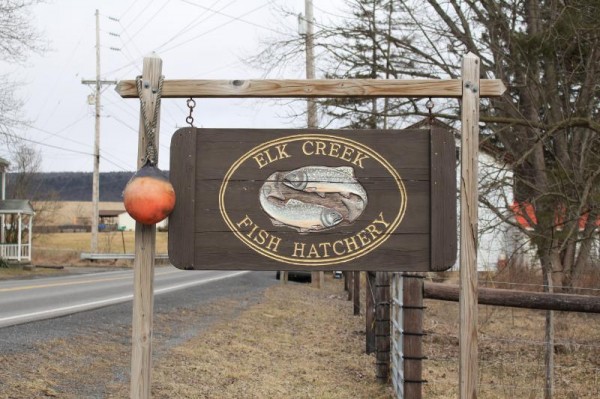 Dan Brigham has been the owner of the Elk Creek Fish Hatchery for about 30 years, in recent years with his loyal dog and co-owner, Rusty, by his side. It all started when Dan originally wanted to seek out a career in oceanography, but realized that there probably weren't many related jobs he can do in a field around Millheim, Pa. So a fish hatchery it was!
After a nice scenic drive through the country, you reach the hatchery. I have to add that I have never been to one before, so I was really curious as to what it would look like. When you pull up look for the Alaskan license plate, that's when you know you are at the right house. When I arrived the friendly Rusty, and Captain Dan, greeted me. He started to tell me how he just got back from borrowing some fish food from a fellow hatchery.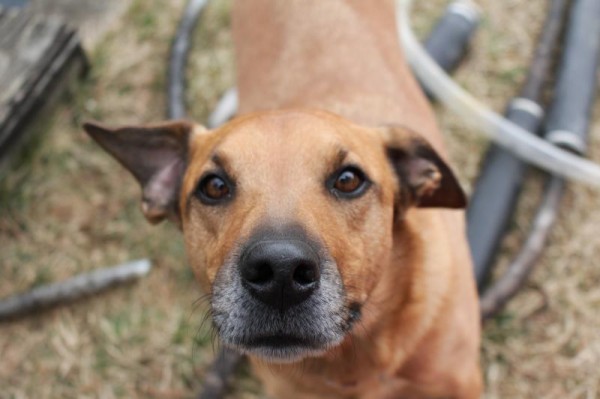 Rusty, co-owner of Elk Creek Fish Hatchery
His fish are stored in a little feeding pond that is separated so the fish don't mix together. It is all natural water, so it does grow algae. Every now and then he has to put on the hip waders and clean it. Luckily, it is only about two feet deep.
Dan has around 25,000 fish. As you can imagine, it takes a lot of food to feed them. He feeds each type of fish about 100 pounds a day, which includes rainbow trout, brook trout, and brown trout. I asked if the fish needed to be fed every day at the same time, and his answer was surprising. "They feed themselves," he said.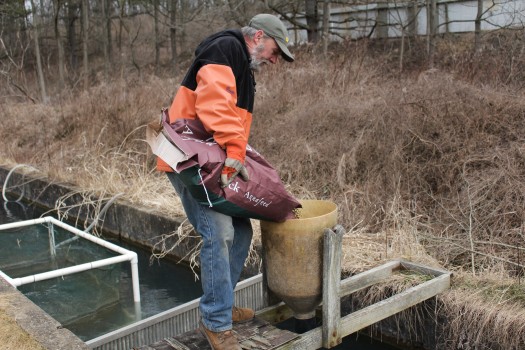 Dan loading the fish feeder.
The look on my face was probably confused. He then showed me how the fish can bump into a rope that sits in the water, and then releases the food. He said that over time they adapt and learn that the rope is the key to food. Another way to feed the younger fish is by a small conveyer belt that is set on a timer.
Most of his buyers are local people who that are building a pond or stocking up a natural pond. He doesn't do much business with restaurants anymore because he says it is hard to keep a big size year-round for them. To transport the fish he uses big tubs of water, or the buyers come pick them up.
The price of one fish is about $4.00. I thought this was kind of high, but when he explained the price of food and the electricity it takes to keep the water flowing properly, it made perfect sense.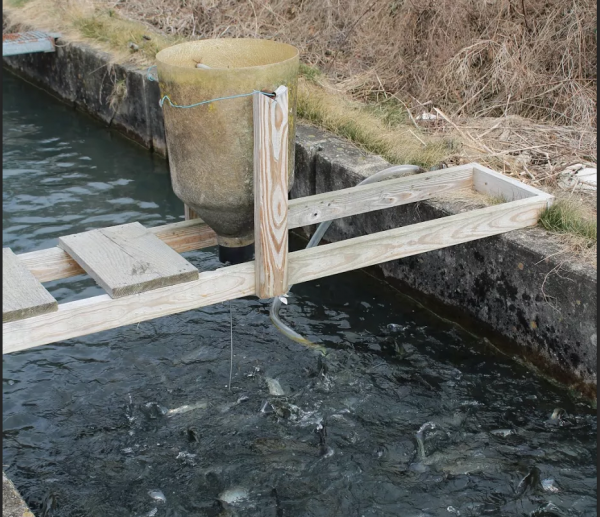 Hungry fish in a feeding frenzy.
Brigham and Rusty spend a few months in Alaska, where he catches wild salmon to bring back and sell. During this time, he hires a friend to watch over the hatchery.
This was definitely a unique stop! To check it out for yourself, here's what you'll need to know:
515 Millheim Narrows, Rebersburg, PA 16872 or call 814-349-5814
I would call ahead of time, to make sure he will be there! Want fresh salmon? Visit his website to find out where to buy.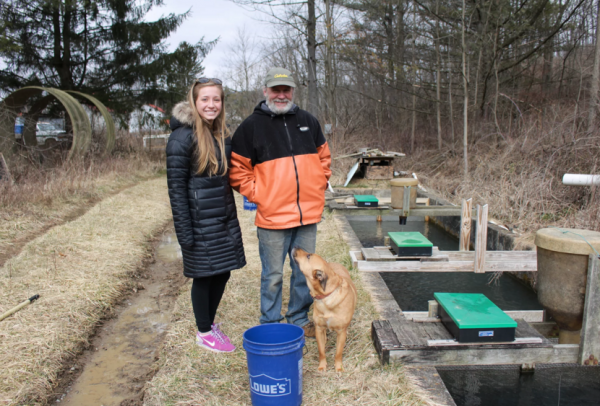 Alexandrea and Captain Dan
Author: Alexandrea Scott
Bio: Penn State Broadcast Journalism • Coffee & red lipstick • Travel addict