Posted by Michele Frank on 09/16, 2010 at 12:19 AM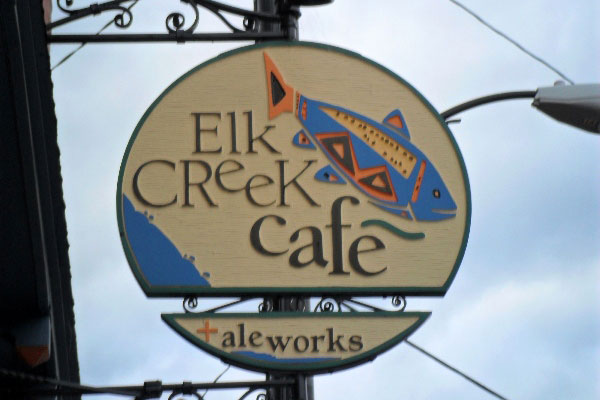 Overall, I am a typical Penn State student. I drink the beer that is on tap and on special. I'm so used to drinking the cheap stuff that I'm intimidated by craft brews. Also, because I come from a wine drinking family, I have limited experience with beer. Yet I was intrigued by the allure of Elk Creek Café + Alehouse, and so I traveled with my boyfriend 30 minutes to Millheim in pursuit of something other than Bud Light.
The first thing I noticed as we pulled into our parking space was the vibrant blue, orange, and yellow fish swinging on the sign outside. The surrounding buildings are various shades of grays, browns, and whites, which makes the Elk Creek colors pop in comparison. And as we stepped inside the café, my eyes were immediately drawn to the colorful abstract art hanging on the walls. It is a mixture of modern art chic in a laid-back pub atmosphere, which must contribute to the café's popularity.
After being seated, we placed an order for the beer sampler. All of the featured beers are brewed in house, making Elk Creek one of the few microbreweries in Centre County.
Our waiter arranged the seven beers in the order designated on the menu card at our table. The array of colors and aromas was overwhelming, but I dove right in. After tasting and scrutinizing every brew, I determined my three favorites.
The Winkleblink Ale is very refreshing. It is pale yellow with a subtle taste and a delicate aroma. I think it would make a great tailgate beverage. I pictured myself kicking back with friends and enjoying this beer with burgers and ribs.
The next sample was different than any beer I've tasted before. The Great Blue Heron Pale Ale has a strong hops taste. I think it would pair nicely with a spicy Cajun dish, such as one with andouille sausage.
The final beer was my favorite of the day: Elk Creek Copper Ale. It doesn't have a strong scent to it, but the explosive taste more than makes up for its lack of smell. I could actually taste the caramel and toffee undertones, which slightly resembled coffee. Considering my limited experience with beer, I was surprised I could pick up on those flavors.
While we didn't order any food, Elk Creek's menu is full of local ingredients.
The café's commitment to the community results in a menu that changes daily. Meat is supplied by at least five different local farms that promote pasture-raised beef, chicken, pork, and eggs. The produce changes with the season and mainly comes from Tait Farm in Centre Hall. I fully intend to return to discover what else the café has to offer.
Elk Creek Café + Aleworks
100 West Main St.
Millheim, PA 16854
Phone: (814) 349-8850
Wednesday - Thursday 4pm - 10pm
Friday - Saturday 12pm - 11pm
Sunday Brunch 11am - 2pm
Author: Michele Frank
Bio: Michele is a senior at Penn State majoring in print journalism. She loves to cook for her friends and family, and wishes to make a career out of her hobby. She spent last summer working for Gulfshore Life Magazine in Naples, Fla.