Posted by Jamie Oberdick on 05/10, 2013 at 02:34 PM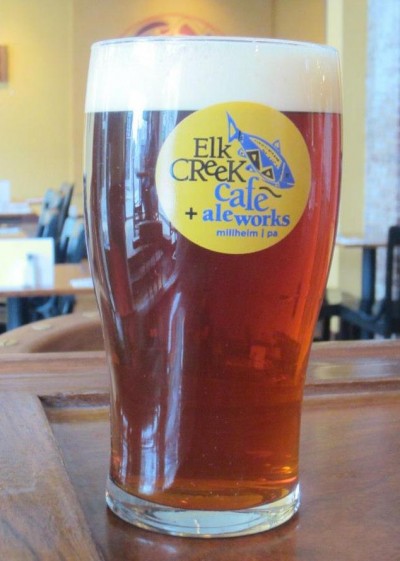 Editor's Note: This is part 1 of a two-part look at summer food and beer pairings with Centre County brewers - today, Elk Creek Cafe + Aleworks, and next Friday, Otto's Pub and Brewery. Traditionally, pairings of food and drink has usually been about wine. But over the last decade or so, as craft beers and ales have become more and more prevalent, beer and food pairings have come to the forefront. Everybody knows how well a nice cold glass of beer goes with wings or burgers, but what about more adventurous pairings? I recently talked to Tim Yarrington, the brewer responsible for the excellent libations that Elk Creek Cafe + Aleworks puts out on a regular basis, about some beer food pairings that will make you want to head to Millheim and grab a growler or two.
While Elk Creek will be brewing a variety of seasonally appropriate beers for when the weather gets hot and humid, Tim focused on a couple of great options. His first recommendation is a beer style that was first brewed in the late 19th century, one that is not very well known but is right up there with a wheat beer for a perfect summer brew. "One of our most popular summer beer offerings is our Colyer Kölsch," he said. "This is very old brewing style that is associated with the Cologne region of western Germany. It is a top fermented beer; an unusual holdover in today's lager-dominated modern Germany."
While this beer style is not well-known quite yet, it's popularity is growing as it is a nice, lighter beer for the summer months. "It is quite light in color with a golden straw complexion," Tim said. "It is delicate, crisp and cleansingly dry."
In keeping with the light and crisp theme, a growler of Colyer Kölsch can be served to friends at the start of a meal. "It is an excellent complement to fresh summer mixed green salads and is also traditionally paired with lightly smoked sausage as an appetizing precursor to the main evening meal," Tim said.
The next food pairing that Tim recommends is a little stronger and has a bit more oomph behind it without being overwhelming or heavy like a winter brew such as a porter—Little Village MFA. "This multi-faceted ale is a fine balance of malt and hops in generous proportion," Tim said. "It is assertive without being aggressive with pleasing grapefruit hoppiness supported by a full malt flavor."
Now, a beer like this is a good go-to brew for the traditional beer-and-burger backyard cookout combination. But Tim said the beer encourages a more creative burger. "This is a great complement to any backyard grilled hamburger and will stand up to the most imaginative or irreverent burger toppings summertime partying might inspire," he said.
Sounds like a trip to Elk Creek to get a growler of Little Village MFA and a stop at the Millheim Farmers Market to get some "irreverent" burger toppings just might be on the agenda on summer Saturdays this year…
Author: Jamie Oberdick
Bio: Editor, Local Food Journey | Passionate about supporting local food in Central PA